Welcome to my World! Please Be respectful and dont make up lies about yourself while you are here. Also, enjoy your stay reading my random rants about my life and nothingness.
MY INFORMATION:
Name: Nicole c. W.
Age: 19
Birthday: August 29th...meaning I`m like a Virgo
Location: WonderBread Land!
Fav. Food: Meat ...sweet delecious RAW meat! ((drool))
Fav. Anime: I dont have one...anymore, ha ha ha.
Fav. Game: MGS(Metal Gear Solid)
Current Theme: Ezio Auditori, Assasins Creed 2
I DO NOT TAKE REQUESTS! IF I AM INTERESTED IN DRAWING YOUR CHARACTER I WILL LET YOU KNOW VIA PM! PLEASE DO NOT BOTHER ME WITH SUCH NONSENSE.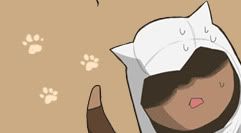 ...Please Be Kind...
Check out my Site!
http://www.lifeless-kapranova.webs.com/