Hey everyone and welcome to the Tutorial World!
This world has two main functions:
- Sharing and organizing tutorials made by theotaku.com members
- Asking and giving help to those who have encountered a problem
There is a list of tutorials (click button shown below) divided over two main categories: traditional art and digital art. There are subcategories drawing and coloring. The tutorials are listed in alphabetical order by name and a link to the tutorial and maker is provided.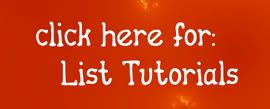 Guest Posters
Do you have a tutorial and want to add it to this world? Just ask us to post it or become a guest poster!
Have you ever had a time that you had a problem with finishing your drawing? Have you ever hesitated which colors to pick? Now there is a solution! We help. Become a guest poster by simply pming just.me and post your drawing and ask for advice. Let's have fun and help each other! X3
Guest poster list can be found here.
Posts
The posts in this world are for submitting tutorials directly onto the site, announcing that a new tutorial has been added. Furthermore posts are for asking for help with a specific drawing or subject.
Our Banner
How do I post a banner on my world? link
Image banner: http://i128.photobucket.com/albums/p199/just4me_bucket/TutorialsWorldbutton_small.jpg
Link banner: http://www.theotaku.com/worlds/tutorialsworld
Other tutorial sites
Here are a couple of very useful tutorial sites:
www.elfwood.com/farp/art
www.drawspace.com
www.mangarevolution.com/tutorials
www.deviantart.com - tutorial section
www.mangatutorials.com
www.howtodrawmanga.com/howtodraw/tutorials
Don't forget to subscribe if you want to stay informed! :P
Idea for World: Brunettte
Moderator: just.me
Affiliate: Color Me World