This sale is specifically for you lovely people of theO
Paypal only unless you have a deviantart then we can wander over to there if you want to use points
Please pay before I get started. (I've been gipped multiple times by letting people pay after)
Please give me at least 2 months before you start bugging me about your commission. I work two jobs outside of doing art.
I don't do refunds; unless if takes me more than 6 months to do your commission.
I have the right to refuse your commission if I feel uncomfortable doing it.
Prices may change depending on complexity.
All commissions will either be background less or have a simple background.
Simple Chibi (can choose slight shading or flat color)
Singles are $1.50 Couples are $2

Chibi/ Chibi headshot
Singles are $3.50 USD Couples are $4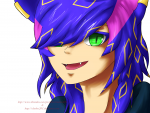 Headshot/ Bust shots
Singles are $4 USD Couples are $5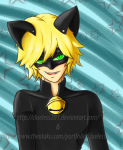 Halfbody/ Knee up
Singles are $5 USD Couples are $6 USD

Fullbody
Singles are $6 USD Couples are $7.50USD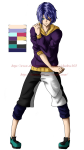 DO's
-Human's
-Kemonomimi's
-Mermaid's/men
-Humanoid Gijinka's
-BxG/BxB/GxG
DO NOT's
-Furries/Anthro's/fursona's (Unless the anthro is fairly human looking then we can talk about it.)
-Animal's in general
-Overly muscular
-Mecha's
-Babies/small children
-Gore
You can either PM me with the commission info or comment below with what you would like. Then I will go to a PM for your e-mail address.
Commission Type: (headshot, half body, full body, chibi, couple)
Name of character(s):
Personality: (Don't have to go into detail about it, just some quick notes about how they act if the link to the picture doesn't already have their profile with it.)
Expression you want: (optional)
References: (please be a full body reference)
For customs adopts: If you get both a full body and a chibi it will be $13 instead of $17.
Commission Type: (Chibi or Full body)
Species: (if you want one of my closed species do you want a cotton puff or kapua if not what do you want it to be? mermaid,kemonomimi, pokemon gjinka, human,etc) (no ferals, sorry)
Color Pallete: (if choosing a Kapua what flower? that will be the color of their hair as well as the color of the flower. the rest of the colors are up to you)
Anything else: (certain clothing/ style/ etc.)
Chibi- OPEN
1.
2.
3.
4.
Head Shot- OPEN
1.
2.
Half body- OPEN
1.
Full body- OPEN
1.