HENCE THE OLD TESTAMENT OF POKEMON GIJINKA REVOLUTION. I, OTOMI BABII, CREATER OF PGR, AM KEEPING THIS UP FOR MEMORIES OF THIS EXTRAVAGANT ROLEPLAYING WORLD. THE NEW TESTAMENT OF POKEMON GIJINKA REVOLUTION IS HERE! HAPPY READING AND REMINISING!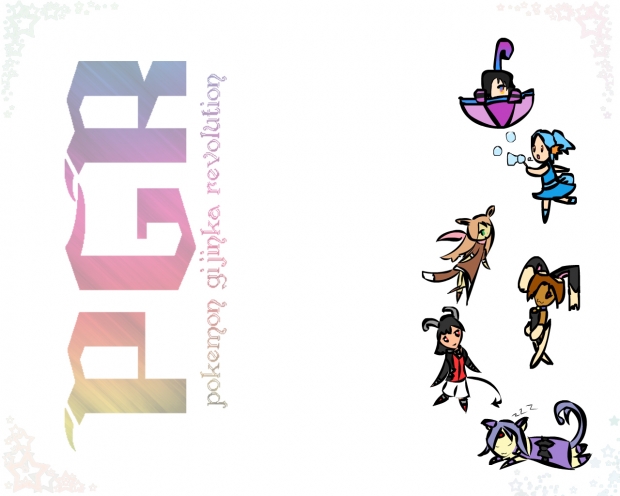 Gijinkas Unite!! 8DDD

Welcome Pokemon or Gijinka... or actually BOTH lovers to POKE GIJINKA REVOLUTION! This is a RP world filled with Gijinka Pokemon. Make a gijinka pokemon and take an adventure surviving the mischiefs of Pokemon Bounty Hunters, Drama, Battles and so much more. Enjoy!

Leader Board


Otomi Babii- Leader Lupe the Lopunny

Naomi Bear- Co LeaderEstelle the Espeon & Zaishi the Zangoose

Eneko- Vice Co Leader Nyarth The Meowth

Team Plasma N-Secretary- Lux the Luxray & Xio The Dark Luxray

Members

Vdr-07- Hoom the Houndoom& Lunette the Lumineon

Animelover7310- Shupple the Banette & Tanner the Tangrowth

Kyouyarenge- Shola the Sharpedo

Bluesen12- Chii the Chinchou & Cheruu the Cherubi

Krokun- Roselyn the Roselia

Kitty K.O.- Aberius the Absol & Raine the Ralts

SaiKat- Arc the Arcanine

Dixiewings- Umbre the Umbreon

Kc Inoue- Ava the Altaria

xXShayde WolfXx- Moyasu the Shiny Flareon & Rikku the Dark Pikachu

Sacrificed908- Gale The Girafig

DeathApple3- Patrick the Pachirisu

~~~TEMPORARY ABSENCE~~~

Thyme Girl- Melody the Mudkip & Luis the Lucario

Animelgirl1981- Bella The Bellossom

Links:

Ground Rules (MUST READ TO JOIN)

Drawing Assignments && Missions!