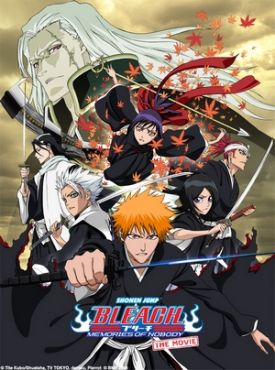 "It was definitely worth it."
Walking around in his Squad Ten Captain's coat, Eric is able to sum up the entire feel of the movie Bleach: Memories of Nobody in a single sentence. He was one of the many anime fans to flock to a theater in Livonia, Michigan for one of the two showings of the movie that would run. Some travelled over thirty miles to watch their favorite characters on the big screen.
"It's only playing for two days," Eric said, responding as to why he decided to go. "Also, it's Bleach." He gave a smile, showing his enthusiasm before the movie even started.
As the feature began, the rest of the patrons showed their enthusiasm as well. Cheers and clapping could be heard for fan-favorites such as Zaraki Kenpachi and Kuchiki Byakuya, while laughing filled the theater for the movie's many comedic moments.
Some fans though, were slightly melancholy as they left the theater.
George, who mainly reads the manga version, disliked the fact a favorite character was not present. "They needed Yoruichi," he said bluntly. He was also disappointed that the humans did "nothing" instead of helping to fight.
"I still liked it," he added, despite a lack of talking cats.
Before the movie, there was a special feature put together by VIZ, the company that translates the Bleach series. They interviewed different people within the project, including voice actor Johnny Young Bosch. They, along with others, helped to explain the process in which the anime is made ready for an English-speaking audience. Some of the Japanese creators also come on screen to bring their view, via subtitles of course.
Tite Kubo, the series creator, even gave a live ink drawing session before explaining that he was very excited to meet the enthusiastic anime and manga fans at this year's San Diego Comic Con in July. The convention will feature a showing of the movie.
"They need to come out with the second one," Eric says, referencing the second Bleach movie: Diamond Dust Rebellion. "They need to come out with more anime movies in America. ... I'd definitely go."
Bleach is an anime and manga series about "soul reapers" and their job to purify the disturbed souls dubbed "hollows". The movie follows the main protagonist, Ichigo, as he fights to prevent the Spirit and Living worlds from colliding. The movie's original protagonist character, Senna, is a key to it all. Many cameos and bit-parts are provided by Soul Society Arc characters, while the story is set after the arc has taken place. New antagonists are also introduced, as well as a new spiritual realm that is tactfully explained by two supporting characters.
Bleach: Memories of Nobody, runs approximately 90 minutes long and will have a Region 1 DVD release in October.