Quiz Results 36inc

No Comment
(08/08/13)
Who Would Be Your Mare Of Honor?

rarity!
(05/16/13)
Yu-Gi-Oh: Which Character Are You?

No Comment
(11/10/12)
Which Okami Character Are You?

this fits me
(09/23/12)
What Sort Of theOtaku Member Are You?

y
(12/03/09)

woah he looks like a girl,perfect!!!
(11/20/09)
What Final Fantasy VII Character Are You?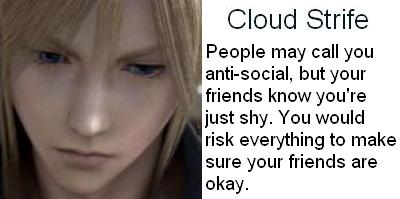 swords?????
(11/14/09)

previously writen in konami as dark ruler ha des,those doichbags
(11/11/09)
What Straw Hat Pirate Are You?

loli-popyouinthemouth
(11/10/09)

asch!!i will paint you in blood tonight
(11/05/09)
What Type Of Adam Would YOU Be?

mudkip!!!
(11/01/09)
What Legendary Pokemon Are You?

mewwwwwww
(10/25/09)

mwahahaha
(10/22/09)

come my undead warriors of dooooooooooooooom
(10/20/09)
Which Street Fighter Girl Are You?

kickass
(10/08/09)