Yesterday I told a story about a Victoria-born Chinese-Canadian who found himself becoming a hero in southeast Asia when fate swept him into the war with Japan. Today, I tell a similar yet opposite story of a man with similar origins, who fought both Nazi Germany and his own racist government in a story that stretches from British Columbia to Berlin itself.
This is the story of Lieutenant-Colonel Kam Len Douglas Sam.
Douglas Sam was born, like Bill Chong, in Victoria. A third-generation Chinese-Canadian, he had dreams of flying airplanes and knew that the military would be the most practical way of meeting that dream. Unfortunately for Sam, the British Royal Air Force rejected his recruitment in 1938 as he was not Caucasian; returning to Canada in 1941, the Royal Canadian Air Force rejected him for the same reason.
"...the Air Force does not want coloured personnel because of the difficulties of racial differences." ("A Senior Officer", October 1941)
A year later, now that Canada was involved in the Pacific war with the Empire of Japan, the need for more men was immediate, and there was a large demographic chomping at the bit to do their part for their country: Chinese-Canadians wanted to prove their worth to a country that despised them, and had hopes that service could lead to the franchise and even the vote.
On October 1 1942, the RCAF dropped the racial restrictions on recruitment; on the 21st, Douglas Sam enlisted as an air crew officer with Bomber Command.
Douglas Sam's tour of duty in Europe had him flying many dangerous missions as a Lancaster tail gunner in the 426th Squadron of the RCAF - "The Thunderbirds". He took part in the bombing raid on Nuremberg which involved the loss of 94 Allied bombers, as well as a raid on Berlin which involved the loss of 73. Bomber pilots, flying large and slow planes forced to keep in straight, steady courses, had a low enough survival rate as was; Douglas Sam happened to be luckier than some others, and was able to safely complete 27 missions over Nazi-occupied Europe.
His luck ran out on June 28 1944, on his 28th mission. His Halifax bomber was attacked by three German night fighters as they few towards Metz in France. Though Sam was able to shoot down one of the fighters, the other two finished off his bomber, forcing his crew - save their mid-upper gunner, who died - to bail out over Rheims as their plane came down riddled with cannon fire.
Douglas Sam's family was informed that he had been shot down over enemy territory and presumed dead. As the weeks passed with no further news, Sam's grandmother - though she was a devout Anglican - went down to the Victoria Chinatown's temple and lit joss (incense) sticks for her grandson; the joss showed favourable signs suggesting Douglas Sam was still alive. Still, as time went on, Sam's family began to fear the worst...
...his story then takes a curious turn...
Despite parachuting down about 180 meters away from a German Air Force Base, Douglas Sam was able to evade capture and contacted the French Resistance. He met with Marcel Lacour, owner of the Rheims resistance headquarters, the Café Bar de l'Univers. Here, he began a new war...
The flight officer was now a resistance fighter. With the French Resistance and British Intelligence, Douglas Sam took the guise of an Indochinese student stranded in France with the occupation. It was a cover story that he had to portray carefully, as he worked up a front with high school French (Canadian, not European, mind you) and knew nothing of the region now swarming with Gestapo agents. During his time with the Resistance, Douglas Sam was stopped twice by German patrols, and fortunately was able to twice convince them of his story.
For the rest of the summer, Douglas Sam ran with the local Maquis. He worked as a liaison between resistance cells, distributed supplies dropped by the RAF, and - like Bill Chong in China - helped Allied airmen get back home. As time went on, Sam's resistance activities would begin to include even more dangerous missions like ambushes and assassinations and executions. Going by a citation in the RCAF's website, it seems he also saw action in the Liberation of Paris in August, where he "[distinguished] himself creditably in hand-to-hand fighting during the Liberation of Paris."
Due to the secretive nature of his work, the Royal Canadian Air Force eventually added Sam's name to the casualty lists and publicly reported his death - as such, Sam was also erroneously noted as the first Chinese-Canadian death in the war. This was how sensitive his activities were, and the Allies were not about to complicate that any further.
Thankfully, come September, Douglas Sam was still alive and well:
"The next day a solitary American tank entered Reims and was directed to the Café-Bar de l'Univers. A major from Boston emerged - and was intrigued to find a Chinese-Canadian airman in charge."
In October 1944, Douglas Sam returned to Canada. Needless to say, his death notice was erased and his family was likely extremely pleased.
For his services in the French Resistance, the French Government awarded Kam Len Douglas Sam Croix de Guerre with a Silver Star. He had survived a tour of duty with Bomber Command, a summer with the Maquis, and got to come home to talk about it.
Already an amazing story, Douglas Sam went on to remain a career officer in the RCAF, gaining a permanent commission. He received Intelligence training from Britain's MI-6 and became a liaison between agencies in the US, in Britain, and within NATO.
He took part as second-in-command in the jungles of Malaysia in 1950-51 against Communist infiltrators; ironically, the very people he would be fighting would be the same people trained by other Chinese-Canadian special forces five years prior.
After 25 years of service all over the world, Douglas Sam retired in 1967 with the rank of Squadron Leader and began a new career in the Department of Immigration in the Canadian west. During this time, he eventually became the Chief Intelligence Officer in the Pacific Region, detecting illegal immigration and terrorist activities until retiring in 1983. Still, all this while he remained with the Primary Reserves as a Lieutenant-Colonel until 1978, including time as a security specialist for the 1976 Montreal Olympics.
And in case it needed to be said at this point, Douglas Sam - along with other Chinese-Canadians - did indeed gain the franchise, the vote, and the respect and recognition for his efforts.
Kam Len Douglas Sam was the most decorated and most highly-ranked Chinese-Canadian in history. Along with retiring a Lieutenant-Colonel in the Primary Reserves and receiving the French Croix de Guerre, he also became the first non-RCMP member to be awarded the Royal Canadian Mounted Police's Certificate of Commendation for dedication and contribution to law enforcement.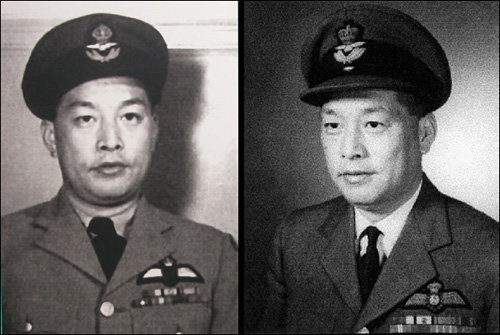 (Internet photos of LCol. Kam Len Douglas Sam)
Douglas Sam passed away in Vancouver, BC in 1989 at the age of 71. During his lifetime he saw a nation rise up and took part in defending freedom from the greatest threat of his generation. He also saw a nation change its stance and policies for its people of all creeds and colours, bringing equality back home to people who truly saw themselves as nothing more than Canadian.
As one of those Canadians (who actually voted in a local by-election yesterday, no less), I'm glad. Proud, even.