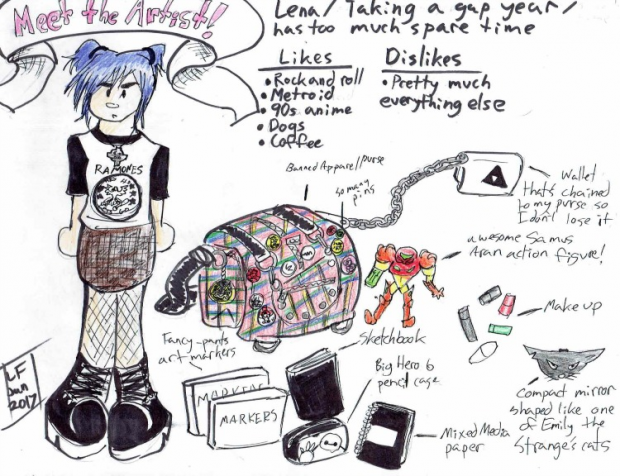 ようこそ!
Hey, I'm WildGirl1977 (aka Lena). I'm a punk rocker, hence the name of the blog :)It's a play on the Ramones song "Sheena Is A Punk Rocker". I like anime (duh), sci-fi, comics, and rock and roll. I play guitar (badly), and I write my own songs (or attempt to). Feel free to PM me if you ever want to chat.
I have a webcomic called Kagamure, which you can read here
Also! Also! I have a Redbubble shop! So excited about this! Check it out here.
Other places you might run into me:
DeviantArt
Facebook
GaiaOnline
Nihongo Master
Twitter
Paigeeworld
SoundCloud
my art Tumblr
my personal Tumblr
Quick facts about me:
Age:19
Future career:Punk rocker and/or comic artist
Favorite games: Super Metroid, Okami, LOZ: Twilight Princess, Star Wars': Knights of the Old Republic
Favorite anime: Psycho-Pass, Fairy Tail, Cowboy Bebop
Favorite manga/comics: Rurouni Kenshin, Hellboy, Ms Marvel, Naruto, Hopeless Savages, Zita the Spacegirl, LeveL, Calvin and Hobbes, Groot, Guardians of the Galaxy, Gamercat, Monstress, Doctor Aphra,Manly Guys Doing Manly Things, Silk
Music I love: Lou Reed, The Clash, the Beatles, Joan Jett, The Cranberries, Juliana Hatfield, Ramones, U2, David Bowie, Sex Pistols, Social Distortion, Blondie, The White Stripes, Metric, Franz Ferdinand, Ok Go, Shonen Knife, Sham 69, Lorde,
The Descendants,
Violent Femmes,
The Velvet Underground
See you around!