Salazar's Story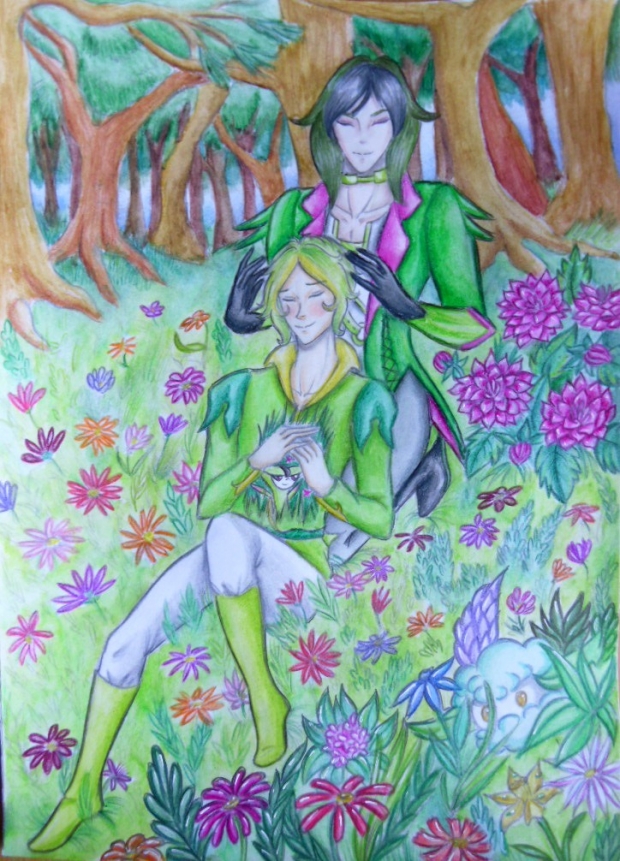 Salazar got up later than usual that morning. He was generally a morning person, but the night before he had been up until late night, working on his new project. A project that was going to keep busy for several months, and he couldn't wait anymore to start it.
He looked proudly at the result of his work, running a hand on the carton, and let out a happy little sigh. The painting had finally dried overnight. The picture on the carton shone in the sunlight coming in the room through the open window. After gazing at it for a few more minutes, he took it and placed it into a folder that put into his bag, with a couple of other items, like paper patterns and several reels of thread.
Salazar felt especially happy that day because he would have gone to class. It had been already several years since he had decided to ask to the Leavannys of Pinwheel forest to follow their sewing lessons with the young Swadloons, and he wouldn't have given it up for anything in the world.
Every week he'd been waiting impatiently for the Thursdays to come to go to class. The Swadloon and Leavanny Gijinkas actually gathered all together to sew and weave every day, but he could go only one day, because his father didn't look favorably on that passion of the son. Salazar knew that he could considered himself lucky even for those few hours per week, for which he had to thank his mother, who had interceded for him with his father, to give him the possibility to go at the sewing lessons.
His father Princeton wasn't happy at all about him, and Salazar knew it very well. He wasn't neither as strong nor brave as his father. Princeton wanted to have a powerful and charismatic son as he was himself, a son to be proud of. But Salazar had never been that son. He was silent, kind but weak. He couldn't stand up to the other people, nor fight for what he believed in. He just preferred to submit to others, rather than subdue them. A disgraceful behavior for a Serperior like him.
Salazar felt very bad about all this. He wanted more than anything else to make his father proud of him, or at least to not make him feel ashamed. Since Salazar lacked the charisma or the typical strength of his noble family, Princeton had hidden him from anyone, and educated him to at least make him become a refined nobleman in order to carry on the family name.
The family name, the pride of a Serperior, those were the most important things. Lessons of history, literature, philosophy, to increase the knowledge and understanding, but also etiquette lessons, how to move, maintain a good posture, make conversation, and prove to everyone that he was a gentleman. That he was superior and deserved respect.
Princeton had also organized social events in the past, dinners and soirees with highly placed and influential people who came across from all Unova. There, for the first time, Salazar had met other young Serperiors. It seemed like each one of them knew he was better than the others, and that had to constantly prove it to the whole world. Their spontaneous haughty behavior and the looks from top to bottom they gave to him, had put Salazar under great pressure. As much he knew he had to prove himself to be in their league, eventually he had only shown to be weak and submissive towards them.
Salazar showed how incompetent he was and incapable of keep up with the other Serperiors, or every assertive person in general. After all he preferred kindness over overbearing power, even if he knew that wasn't the way he had to be. Princeton was so disappointed by the ineptitude of his son, that didn't spoke to him for several weeks. And whenever there was an important guest coming at their home, he ordered to Salazar to stay in his room, to not present him to the people, with the excuse that he was ill or unable to meet anyone.
On one hand Salazar was actually happy about it. At least he didn't have to meet anyone of those people who constantly judged him, but he also felt hurt. His father was hiding him because he was too ashamed of such a son. Salazar just wanted to be like the other Serperiors. He wanted to make him proud. But he knew that there was no way he could succeed in that. He was weak. The only thing he could possibly do was to continue with his studies, get married with a woman from a good family and give grandchildren to his father as soon as possible. Heirs who could hold high the name of the family, that wouldn't have been weak or defective as it had always been him.
Salazar was very unhappy of this kind of life. But he continued to do his best to make his father happy, being diligent in his studies and in his education and not showing off. He hardly ever left his home, and of course he had never had a real friend. His own sister had left the forest many years before. But at least that day he was going to his sewing classes! The only thing left that made him happy. The only one that gave him the strength to go on. Only when he was weaving or sewing around those people he really felt comfortable. Unfortunately no one wanted to be his friend, especially because they were too intimidated by his father, but at least they didn't judged him, and they were always nice to him.
After Salazar had finished preparing his bag, he went downstairs, quickly and silently going down the wide marble staircase. Before leaving, he walked in the living room to say goodbye to his mother. The shiny Serperior was on the couch reading a book.
His mother was a noble-looking and elegant woman, with green eyes full of sweetness and silky a voice. She was very good with Salazar and loved his sensitive nature. She was the one that always taught him everything he knew, the values such as kindness and goodness toward the others. But above all the importance of the family. The family that must stand united against adversity, which is why it was necessary to follow the authority of the householder and to submit to him. His mother always repeated that to him. And to always smile, even when life was being difficult and things were wrong. To set a good example for the others she said. That's how it worked out. As Serperior they always had to show themselves at their best, like if everything was always perfect and under control. They couldn't show themselves weak, or even unhappy.