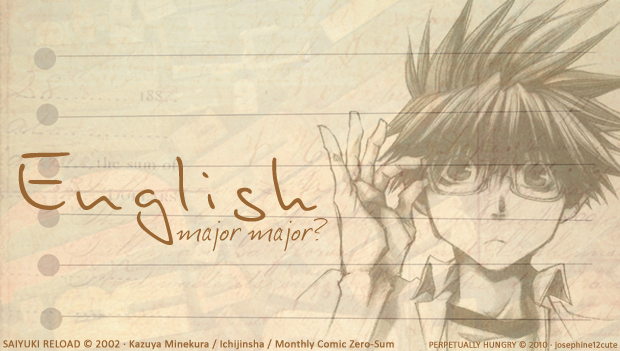 Earlier in out English class, our teacher announced the Top 10 highest graders in her subject (in our section, of course). If I remember correctly, my grade is a doubtful 88. She started from 10 until the number 1 is announced. She already mentioned the top 3 and my classmates are telling me that I may be top 2 or even top 1!
I also noticed that our we only differ in points (87.29, 87.57, etc...) so I became very pressured since I don't know if my 88 is just a round-off or a pure one. Actually, I myself couldn't believe that i would get an 88 for my final grade in English. I expected my grade to be from 80-85 since I'm not the one who recites a lot :P
I'm so surprised that I got top 2. I really admit (not being humble) that I don't deserve to be in that position, even in the Top 10. Even my classmates treat me as the official dictionary/thesaurus/translator of the class. I'm not really that hardworking, just being in a "passing grade" is enough for me...
----------------------
Reminds me of a joke... (it was a letter found from a bar somewhere in Malate and became an internet sensation, especially for the Filipinos) & don't be surprised with the wrong grammars and spellings, just try to understand :P
Marjie,
I am not surprise or wander why Dennis leave you.
Why?
What reason you can think about but you're very fat body. I thought before that Dennis only use me to his toy but sooner and later I'm realize that he really can't not be beared or stomached (1) to be with you anymore because at first, Dennis say he could not stand you're habit of making pakialam (2) all his walks (3) and always calling to their house what he go home or this or that and then he say he get ashame to met iether in school or in his family and then asking you exercise you're very very, very fat body but you hate it thoughth your the most preetiest girls he knows about what do you think you are "Beautiful Girl" of Jose Mari Chan (4) even you are a beautiful face to your think (5)you do not have the right to called me whatsoever or else different name one time or the other for the real purposed to insults my personality because I'm never call you names iether in front of Dennis or in the backs of Dennis (6), but if you start already calling me different name, Idon't have any other choice but to call you other different name to like you are a PIG, FAT, OBESSED, OVERWIGHT, AND UGLY SHAPE girl. Shame to you're body that is to a BUDING (7). You can't not blame Dennis for exchanging you to me because I am the more sexier than you when you look to us in the mirror (8). I'm repeat again that you are like Ike Lozada when she is a girl (9).
FROM: THE SEXIEST GIRL OF D.M.
P.S. You say that I'm the bad breathe but who is Dennis want to kissed? Me or you? You or me? And the final is me.

NOTES:
1 - Masikmura - means "to bear" or "to endure", Sikmura - refers to abdomen or something part of the stomach
2 - Filipino word for "interfering"
3 - Lakad - used as term for "going out" but can also mean as "walk"
4 - a popular classic song here in the Philippines
5 - Isip - "mind" if its corrected but it can also mean as "think"
6 - implies that the writer don't call Marjie names in front and behind the back of Dennis
7 - I actually don't know what the writer meant with that term :P
8 - the writer meant that literally
9 - a comedian known for his big body (literally)