"It's that time again..."
"To buy more bacon?"
"To dance with a lion?"
"No... it's time for this week's caption battle!"
But first, last week's winners:
In third place, for just being simple and sweet: Sora-Mage!
She sneezed, and out came her teeth.
In second place, playing on an eternal favourite: Cougarsama!
Nagisa: I'll take a potato chip . . . AND EAT IT! And then . . . I'll SPIT IT IN YOUR FACE!
And in the coveted first place, being simple and honest and culturally relevant... Hisaishi!
Attention women. No man likes a duckface. Stop it.
Heh. Duckfaces. Silly women...
This week's screencap comes courtesy of a member that is no longer with us, but nonetheless features the series Soul Eater. Guy on the left is Soul, girl on the right is Maka. You know the rest: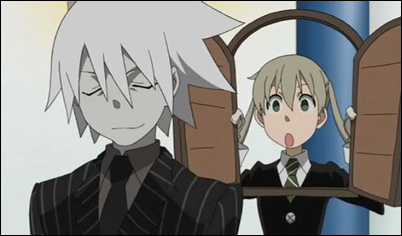 You know the drill: type up the funniest, wittiest, most original caption you can think of for the screencap above in the comments below. Also, if any of you would like some tips on writing a great caption, you can find those here.
And like always, theOtaku is open to all submissions and suggestions for weekly feature content. You have a screencap you want used, you can PM me and we can do somethin' about it. So good luck, and remember: burrito filling inside a pie with bacon as the crust is delicious.