I got tagged like 3 more times, so I'm lumping it all into one post. And I'm only tagging 11 people, because I really don't want to spend an hour tagging 33 people.
RULE 1: POST THE RULES.
RULE 2: ANSWER THE QUESTIONS THE TAGGER SET FOR YOU IN THEIR POST, THEN MAKE 11 NEW ONES.
RULE 3: TAG 11 PEOPLE AND LINK THEM TO YOUR POST.
RULE 4: LET THEM KNOW YOU'VE TAGGED THEM
TheDarkEclipse's questions:
1. If you were to destroy something, what would it be, how would you do it, and why? Ummm...my school...because it's ugly and I hate it. I'd probably nuke it into oblivion like in that Calvin and Hobbes comic.


2. If you were to create something, what would it be, how would you do it, and why? Cure for disease and hunger. Obvious answer.
3. Are you currently breaking any rules? (Currently being from the start of this day to now.) There's a rule at my school against pants with holes, but all my jeans have holes in the knees so to hell with it.
4. Name something about yourself that you hate. I can be selfish and insensitive
5. Name something about yourself that you like. I can't really answer this without sounding self-serving.


(You don't have to answer 4 and 5, I'm just coming up with stupid stuff.)
6. What season is your favorite? Spring
7. Why? Winter is depressing, so spring makes me feel great.
8. What celebrity do you hate? I really hate that so many celebrities are apparently paid not so much to be actors or singers or whatever, but just to be, like, celebrities. For example, there is no reason for the Kardashians to be famous, and they make me absolutely sick. There are celebrities I like, but for the most part I like them as actors or singers or whatever their profession is.
9. What celebrity do you not hate? Who's that girl who plays Katniss? I've never seen her in anything, but I love that she doesn't care what people think about her
10. If tomorrow were your last day and you knew it, what would you do? Pray
11. Are there any video-games that you are waiting for? Pokemon X and Y, I guess. I want to get a job so I can buy a DS to play them.
Sheylinni's questions:
1. Who is your favorite anime character and why? You mean out of all the characters in all the animes I've ever seen? Sheesh. Let's go with Lina Inverse, just for the sake of answering the question.
2. Do you prefer realism art over manga art, or the other way around? Definitely manga.
3. If you were forced to draw something in pen, what would you draw without having to use any guidelines whatsoever? I just did that.G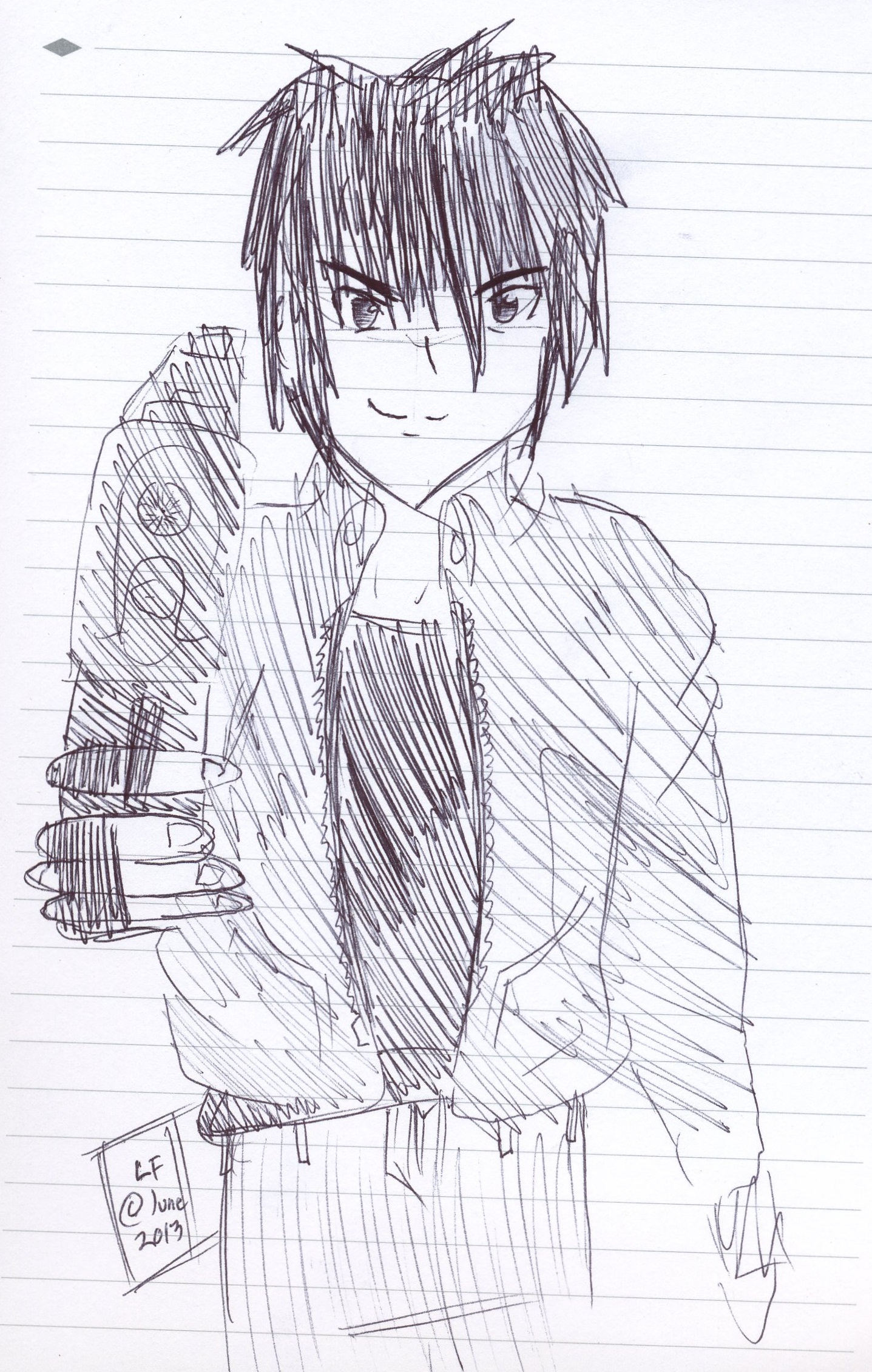 4. Pandas vs. Pikachu? Explainnnnn. Well, they are both sweet and cuddly, but can be surprisingly vicious. Pandas are real, though, which I would say gives them the upper hand, so pandas.
5. Search up these two YouTubers, watch their videos, and in one sentence, explain which one is funnier: IISuperwomanII OR danisnotonfire. I'm a fan of Dan's, and I'll look up Superwoman and tell you what I think of her.
6. TheOtaku vs deviantArt? Explainnnnnnn. DA is boooring, and there are lots of nice people on TheO, so obviously theO.
7. Who did you subscribe to last on theOtaku? SuitLea. You should check out her portfolio, she's a good artist.
8. What pokejinka would you like to be? What?
9. DRAW ME A SLICE OF PIZZA!! *somehow, someway, and post it on this blog, MWAHAHAHA*

10. No mo' questions. Ya happy? Now I can do Soulanime14's questions.
Soulanime14's questions:
1 How do you think the world will end? I will destroy it, cuz I'm an evil genius.
2 If all the elements battled (earth, fire, water/ice, air) which one would win and why? They are great only when they are in harmony, and their separation can only end in the destruction of all four. Why do you think the Beatles broke up?
3 What anime character are you most like and why? I've been compared to Edward Elric and Lina Inverse.
4 Zelda or Mario? I've never played a Zelda game (I know I ought to), so Mario
5 Favorite Video Game of all time? Indiana Jones and the Emperor's Tomb
6 If a unicorn came to your door what would you do? Ask it what it wants
7 Your first fictional crush? Obi-Wan Kenobi in the Phantom Menace, when I was like 9.
8 Do you like roller coasters? Never been on one
9 What's the scariest roller coaster you ever road?
10 How did you enjoy being tagged? It's fun and irritating at the same time.
My questions:
1. David Tennant or Matt Smith?
2. Do you ever eat lemonade mix plain?
3. What's your favorite music genre?
4. How many game consoles do you have?
5. Do you use game emulators?
6. Should we go back to vinyl?
7. If I made a Star Wars reference, would you understand it?
8. Are you good at MarioKart?
9. Favorite non-manga comic?
10. What accent is the coolest?
11. How did you find TheO?
I tag:
SuitLea
pandaman08
scarlettnina123
Marethyu
hiyato
Violett
KairiJun
AlexaClyne
Dranzerstorm
Apple Bun
cowboysean