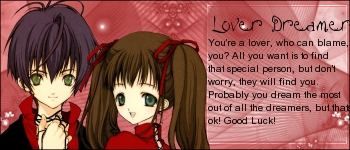 No Comment
(12/01/12)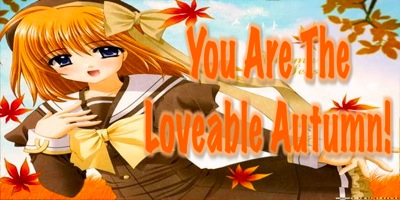 I love fall~. But I also love winter, but it doesn't matter~
(12/01/12)
Which 19th Century Writer Can You Relate With?

... Whaaaaat? X3
(12/01/12)

*goes to look up Gackt* Gotta see who this is...
(11/22/12)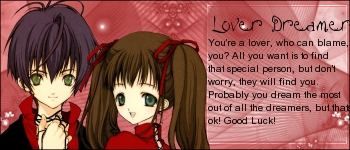 I THINK I'VE FOUND THEM~! >w< I think I found someone to love forever. <3
(11/22/12)

I took it again, and nearly put the all the same answers, I only changed a few. .-.; WHAT AM I? X3
(11/22/12)

I'm a teenager now, so I think like a playful kid, when I was a kid, I thought like a teen. .-.; I'm so backwards. X3
(11/21/12)
What Anime Personality Are You?

Edo~! I didn't expect him! I seriously had no clue who I'd get. >w<; I hope the person I call 'Brother' and 'Ed' doesn't mind when they see this on my page...
(11/21/12)

I feel like I should be adorable... WHY AM I NOT ADORABLE. TwT;
(11/21/12)
What K-ON! Band Character Are You?

No Comment
(11/19/12)

OMG... I feel like blushing. >///<
(07/26/12)
What Soul Eater Guy Is For You?

... Now I have his voice stuck in my head! >w<;;
(07/26/12)
What Female FMA Character Are You?

Cool, Winry~! ^^
(07/26/12)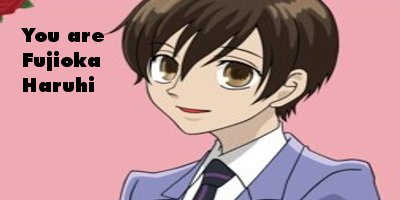 *gasp* IS THIS A TRICK!? ... Weird now that I finally got someone who isn't Tama-Chan...
(07/17/12)

... This is getting scary. 0.o;
(07/17/12)
NOW ON INSTAGRAM
Finally! Follow us on Instagram real quick to get some beautiful anime art in your feed 👇