Jun 13 – Otaku Madness - Posted By ItachiSasuke

Upcoming Summer Anime!
Since I've missed a couple of these, I decided to compile a handful of animes that seemed interesting to feature! Keep tabs on them because all of them come out in less than a month!
Anime title: Ranpo Kitan: Game of Laplace
Anime release date: Episode 1 : July 3
Manga: N/A Original anime series
Genre: horror, mystery
Synopsis: The story takes place at a certain middle school where several murder cases take place. Kobayashi, a boy who goes to this school, meets genius detective Akechi, who comes to the school to investigate. Kobayashi takes an interest in Akechi and, in spite of his friend Hashiba's worries, he volunteers to be Akechi's assistant.
-----
Anime title: God Eater
Anime release date: Episode 1: July 5
Manga: N/A based off game
Genre: Demons, fantasy, military, supernatural, action
Synopsis: The Far East, 2071.
The domain of the mad gods. In the early 2050s, unknown life forms called "Oracle cells" begin their uncontrolled consumption of all life on Earth.
Their ravenous appetite and remarkable adaptability earn them first dread, then awe, and finally the name "aragami". In the face of an enemy completely immune to conventional weapons, urban civilization collapses, and each day humanity is driven further and further toward extinction. One single ray of hope remains for humanity. Following the development of "God Arcs"—living weapons which incorporate Oracle cells—their wielders are organized into an elite force. In a world ravaged by mad gods, these "God Eaters" fight a desperate war...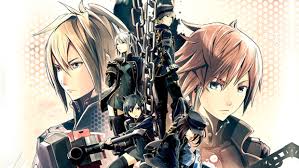 -----
Anime title: Aoharu x Kikanjuu
Anime release date: Episode 1: July 3
Manga: Currently on volume 2
Genre: Comedy, shounen, action
Synopsis: When Hotaru moves into a new apartment alone, there's a mysterious man standing nearby the apartment. Hotaru decides to confront the man, who turns out to live in the neighbouring apartment. The next day at school, Hotaru's best friend Kanae tells Hotaru that a host tricked her out of her money. When Hotaru goes to confront the host, he happens to be none other than Hotaru's neighbour, Masamune?
-----
Anime title: Non Non Biyori Repeat (second season to Non Non Biyori)
Anime release date: Episode 1: July 7
Manga: Currently on 7th volume
Genre: Slice of life, comedy, school
Synopsis: Elementary school student Ichijou Hotaru has moved with her parents from Tokyo to the middle of the country. Now she must adapt to her new school, where there are a total of 5 students in the same class who range through elementary and middle school ages. Join their everyday adventures in the countryside.
-----
Anime title: Akagami no Shirayuki-him
Anime release date: Episode 1 : July 7
Manga: Currently on volume 12
Genre: Historial, romance, shojo, fantasy, drama
Synopsis: The story revolves around Shirayuki, a beautiful girl working as a medicine woman who has red hair, which is very rare in her country. When she is proposed and chased after by the prince of her country, she runs away, only to meet Zen, the prince of a neighbouring country. Finding respect for the young man, she decides to serve at his side as his court doctor