Chapter 1: Unity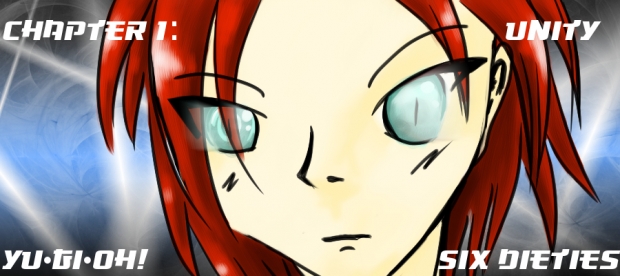 It's a nice spring day. The trees sway to the side, hit by a soft current of air.
A young woman steps out of a game shop, and adds her new cards to her Dueldisc.She looks out on the street, into the sky, and takes a deep breath. She loves the spring air, and it's warmth and brightness glow off her skin. Her name is Yui Mikihara; Professional Duelist and Ra Yellow student at dueling academy.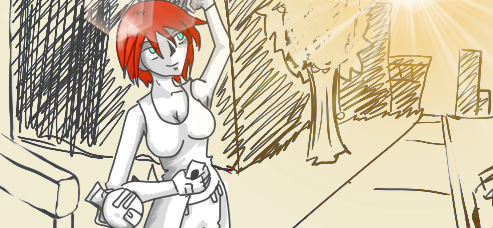 Today is the day when Pegasus announces a new card set. A set that includes a card that would finish off her series. She is anxiously awaiting completing her deck list. She begins to walk towards the arena, and all seems fine, till a group of roughs walk near. They appear apathetic, purple and black clothing, and dueldiscs that are black and silver. As they come closer she notices they have slit tongues, and excessive piercing. Yui clears her throat, preparing to pass them.They bump into her and turn around, complaining.
"Oi, aren't you going to apologize?!" says one of the thugs.
"Right, right, you could have injured him before the Set reveal!" Another adds.
The ones on the side are identical, aside from alternate colors.One sports red tattoos and the left one prefers green. Otherwise theres no telling them apart. The one in the middle is bigger. sporting blue and white tattoos; of fangs and snake eyes. He moves toward her, silent , pulls out his dueldisc.
"your name is...?"
"My name is yui... and you?!"
"you won't live long enough to find out."he tells her coldly.
"Sheesh...you serious?"
She slings out her dueldisc and adds her deck, puzzled by his angst.
"Oh well, I'll just have to beat it out of you.!!"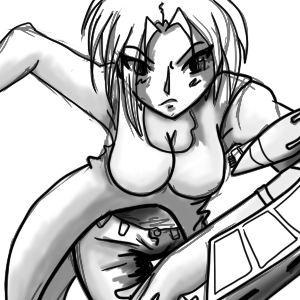 "Oooo, she's pretty percy boss." the green lacky comments.
"I'm not in the business of underaged girls, Koiji. Please don't disgust me today."
"Stop your Babbling and duel!!" Yui commands.
"No one gives me orders!" He snaps back.
"Shut up!"
The both angrily draw. The dueldisc Simulates a coin toss, and the unknown punk wins first turn. He draws his sixth card, and begins setting backrow cards. 3 face-downs, then he smirks.
" Your turn, let's see if theres anything to that bark."
"Hmph, DRAW!"
She draws her card. Thinks to herself for a second before placing 1 card face-down, then setting a monster. Her turn ends. The punk draws and then smiles.
"Alright! I activate my face-down!"He declares.
The left card flips over to reveal a trap card. It pictures a snake biting a man.
"Venomous Attack!! I activate this during my standby phase, and I can use it to discard a card, then switch a reptile monster with any monster you control." Then he summons a snake with red skin and enveloped with soars.
"I summon Plagued Serpent! The controller of this card takes 500 damage!"
He discards another monster from his hand to switch it with her Set monster. It then bites her draining from her 8000 life points.
Turn 1
Hp 7500 yui - 8000 ???
Hnd 4 cards - 3 cards
Grv 0cards - 1 card
Mon PS - 1 set mon
S/T 1 set - 2 set 1 active[Ven atk]
The turn is over. Yui draws her card.
"Time for a counter attack! I play the book of Taou! This flips 1 monster face-up, I choose the monster you foolishly stole from me!"she proudly exclaims.
The card reveals itself to be Selfish bomb. This machine card deals 500 Damage to its controller for every card it controls, once flipped. She then moves her hand to Activate her Face-down card.
"Next I activate Ignition Failure! When my opponent takes effect damage; I can summon 1 Fire-type monster with equal attack to the damage he takes."
She smirks and slams down a monster!
"Say hello to Molten Magnus!"
The monster is a Rock-type melded together by rocks and lava. It has 2000 attack and 1000 Defense. The golem glows bright red, it pulses seemingly growing.
"This guy will not allow you to special summon or normal summon anything but fire-type monsters. Also he can sacrifice 1 monster I control to destroy 1 spell or trap card on the field. To add to your pain; I play Ignition Blast!"
The card destroys 1 fire-type monster, and then yui can draw 1 card. Which she does.
Turn 2
Hp 7500 yui - 6000 ???
Hnd 4 cards - 3 cards
Grv 3 cards - 1 card
Mon MM lvl 6- 0 mon
S/T 0 set - 2 set 1 active[Ven atk]
" Get her boss!!" "Come on you can beat this!" the two weirdos cheer.
"Yes I can Yui, and I have just the card to do it."He tells.
The air pics up, kicking up the coat Yui is wearing. Brushing their hair, yet their expressions stays. What does the serpent player have up his sleeve? Will he make good on his threat? Find out next time.
...To be continued...