This is my home,nothing about this one is really related to the island story.There will be a story time to time their be posted below.I live in the United States.I live in the state of New York.I live with my mom and my brother and a Kitty Cat
!!!I have two brothers and a sister so I guess my mom had two boys and two girls.I'm the youngest in the family.My sister who's the oldest(28 or 29) has....I think five kids all girls oh and the first two are twins.So I have that many neices.My other brother,not the one I live with is about to have a baby(not him).The person he got pregnet got back with her husband,so that gonna be a while,to figure out.I'm trying to make a story,and a kind of manga to go along with the islands(the worlds).The story I ment to be a seprate thing its not a part of the manga,well there will be a story for the manga,whatever.Below is my name in japanese.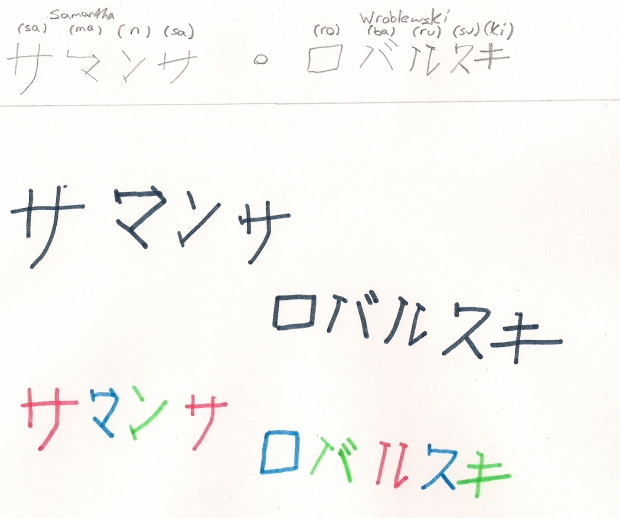 Gender-Female
Birth-date-July,13,1994
I was born in the year of the dog -element wood.
Even though my name is pronounced differently between writing its ok.
Wroblewski is pronouced - Row-bless-ski.I'm not going to write down my first name though.I only did my last name because most people have a haard time with it.
I like(love) lots of different anime,my favorite include Pokemon,ect.
I like the more of the old school anime.I miss Dragon ball,and dragon ball Z.Theres so many animes I could name but I'd rather not name them all(that would be one really long list).Oh,I also like to draw,but I'm still only learning,but I'm trying my best,I believe theres aways more to learn.
Anyway,I'll add more later,bye bye now
.