**Updated 7/11/12
I was bored one day, and sketched a picture of my character Gabe. Since I've never really talked about him before, I'm going to post some stuff about him.
*Note: The characters in Of Fruits and Vegetables (OFAV) are not meant to be totally round characters... so if you see a lot of information missing in this profile, it's because such informatin is irrelevent.*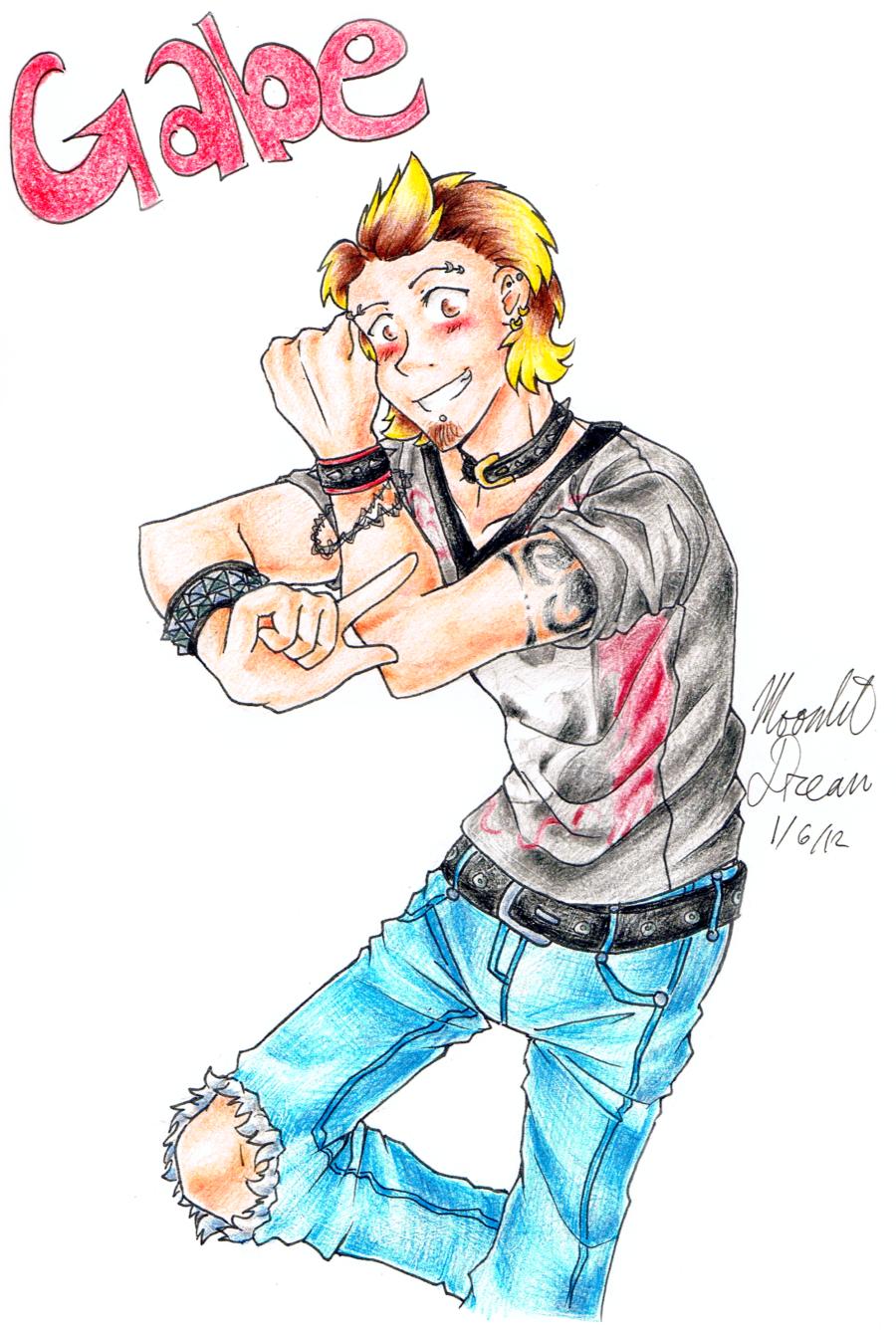 Name: Gabriel
Nicknames: Gabe (by most everyone), Gabey-babe (suggested by himself to Stefan)
Age: 28
Gender: Male
Height: 6'1 to 6'3-ish
Special Talent: Hair styling, being a TOTAL CREEP
Hobbies: Teasing/flirting with Stefan (??), watching TV, listening to metal/rock music
Profession(s): Personal hair stylist (to Tomato), freelance hairstylist (usually specific to men, or friends who ask), formerly an underwear model
Birthplace: America, maybe.
Current Residence: Paris, France (where OFAV takes place.)
Likes: Stefan, guys (ALSKDFJL HE'S SUCH A PERVERT, PEOPLE.), metal music, punk clothes (THAT I KNOW NOTHING ABOUT)
Dislikes: Bossy people, neat freaks (aka, his sister at times), authority (SECRET HIPPIE?), other stuff... I'll need to think about this a little more.
Love Intrest: Stefan
Sexual Orientation: Homosexual
Hair Color: Brown, dyed blonde at tips
Eye Color: Brown
Jewelry/accessories: Spiked collar, belts, writsbands and the like
General Appearance: PUNK YO. Idk.
Family / Relatives: His sister Janet or "Jo".
Relationship with friends: They think he's obnoxious, but like him anyways.
Key Friends: Stefan in particular, but also the rest of the crew.
Key Enemies: None.
Bad Habits / Vices: Being obnoxious, being perverted
Best Qualities: Likes to have fun...? Also fairly truthful.
Worst Qualities: SUPER PERVERT, MAN. He's also a jerk sometimes.
Personal Goals: Get Stefan to fall in love with him
Style of Speech: Pervy. (UGH.) Idk, he talks how he does. (?)
Personality: Creepy. to the maximum power.; Jerkish, crude, rude, arrogant, obnoxious, hard-headed, joker-ish, carefree
Gabe... Oh, Gabe... I have conflicted feelings about him. I don't like his personality. Actually, his personality is exactly how I want it to be, but I don't particularly like people with his type of personality
Because.
HE IS A BIG PERVERT. DDDD:
Gabe is Tomato's hairstylist. He is a MAJOR CREEP. He flirts with strangers, makes provocative remarks and dirty jokes, and is just really obnoxious. >:I I can't even explain how much of a creep he is because I'd feel dirty.
Gabe has a crush on Stefan. Or something... He finds him "voluptuous." o_x Stefan has rejected Gabe many times, but Gabe is persistent... He teases and flirts with Stefan all the time. Beause he's a creep.
(but secretly Stefan likes it.) (?!??!) (Okay, maybe not.)
Gabe is confident that Stefan will one day fall head-over-heels in love with him. Yeah, he's a little stupid... He also tells Stefan to call him "Gabey-babe" at some point. Oh my gosh such a creep asodflsdf.
Hm, what else...
Oh yeah, Gabe has a tattoo on his chest, which you can see in the above picture. It's the snake-fire-thing. And yes, he does randomly lift up his shirt to show Stefan his tattoo at random intervals.
Gabe is possibly the only character in OFAV that is honestly concerned with Stefan's drinking problem. The others are concernd, but really just kinda let Stefan do his own thing. Not that Gabe doesn't drink though, 'cause he does. He just thinks Stefan drinks too excessively. Although his reason for being concerned is a little stupid; He says "What's the point of drinking if you're not at a party? :D"
...D:
The people in OFAV usually think Gabe is kind of a jerk... he is quite rude and makes fun of people he doesn't like. D: He also probably teases Dean the most out of the rest of the crew, and doesn't realize how SENSITIVE Dean is. Basically, he doesn't get other peoples' emotions well.
Oh, one last thing. I don't think I've drawn Gabe with a beard before this picture, but he does indeed have a beard. Sometimes. Depends on his mood, I guess...
It's also sometimes blonde. But usually brown, since that's his natural hair color.
Um... That's about it. For the most part.
BASICALLY,
ALL YOU HAVE TO KNOW ABOUT GABE IS THAT HE'S A PERVERT.