RawRz, Anyone of you that sub. to me can post on here now. (This is only for Vampire stuff)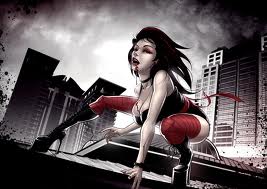 First off...I want to thank Emo Prince XD for making me a guest on this world.
And second, I would like to advertise my Comic-Con World (Sub TheDarkEclipse to find out).
And third, I would like to tell people about my Comic-Con Original; "The Vamps" (Since this world is all about vampires)
"The Vamps" is kind of a slight touch of "The Godfather" mixes with a little "Twilight". The vampire legend was originally started by the vampire originals, Logan Vamp, Ellie Vamp, and Jonah Vamp, the first original vampire generation. Unknown to them, there was another family of original vampires, (They are the unknown relatives of Logan Vamp, their names are Colon Vamp, Samuel Vamp, and Christie Vamp).
This is now set in present-day America and Canada. Turns out, Logan Vamp I and Colon Vamp I had a family dispute and have declared war on each-other. Some of their great(x90) grandchildren are still fighting, some are friends. But this family fued spills from lower Canada to South Dakota.
What will happen in this unpredictable family crisis?