AUTHOR'S NOTE: This was my response to Miss Anonymous' challenge on The Watercooler. Since I can't help but be proud of how well the essay turned out to be, I decided to make this a fanword. I hope the fandomness doesn't bother you.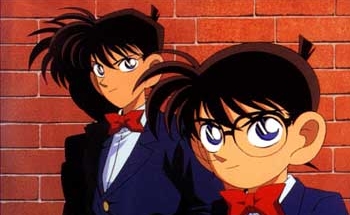 It's a no-brainer that my most favorite anime character is Conan Edogawa from the Detective Conan series. (If you prefer to say Case Closed, then be my guest.) From my anime articles that I've posted here in theOtaku to the several references I have made about him, it seems pretty obvious who is the anime character that I love most.
Now comes the question "Why?". Well, allow me to go back to the year 2001, when the series first aired in my country. During that period, I was an 11-year-old geek in my school. I had moments when I felt gloomy and depressed, particularly due to the current events in my society, such as the Philippine political crisis and the September 11 attacks, as well as a drowning accident in which I was fortunate enough to have been saved.
When I came across the anime series for the first time, I didn't really like it yet since I didn't like to be forced to think while watching a TV show. But as I became more exposed to a few more episodes of the series, I started to have a soft spot for the show. It wasn't until my brother told me the plot of the series and how 6-year-old Conan is actually 17-year-old Shinichi Kudo that I became hooked to the series.
The arrival of Conan brought fresh air in my life and gave me a renewed will to live my life. All my moments of depression have now been gone. Since Conan was a geek like me, I became much more motivated to do well in my school so that I can be like him.
It wasn't long before the TV network pulled the plug on Conan that year. I was very sad to "say goodbye" to the character that gave new meaning in my life. But my admiration for Conan and my love for the series never faded away. Seven years later, I have turned into an 18-year-old student of psychology expecting to graduate from college in a couple of years while continuing to get inspiration from Conan Edogawa and other characters that I have encountered in my life.
So why did I admire Conan? First of all, he was a very smart guy. But it's not only that; he was a very smart guy that was cool. During my early years, I had been a kid who had been spending time studying lessons in school and learning facts about history, government, and politics, which is exceptionally odd considering that I was aiming to be a medical doctor then. When I met Conan, I decided that I wanted to be like him. I became more motivated to learn more and use that knowledge to help inform others, which I believe was what made Conan cool. Some people tend to look down on me for being a geek; Conan taught me that it's okay to be a geek and that I can be cool and smart at the same time. No other character or person for that matter has come close to teaching me that.
Second, he was a brave guy. No matter the circumstances, Conan is still courageous enough to face the bad guys and fight for justice. In my early years, I was what many people consider a "crybaby" since I tend to cry a lot and be easily hurt. Since I was a boy, many people expect me to be more brave, which I didn't get to be right away. When Conan came, it inspired me to be more courageous and to be brave in facing what I may possibly face in my life. He gave me confidence in myself and determination to accomplish my goals. He also helped convince me to be more careful in myself and to plan things carefully before executing actions.
Third, he was a resourceful guy. In many instances, he has shown ways to solve problems using the resources that he has with him. That helped lead me to be more resourceful with the things around me. As a result, I was able to improvise on a lot of things, mostly on crafts and in using the computer. It proved to be very useful for me, since I had now grown up to be a slightly budget-conscious kind of guy.
Fourth, he was a very fit guy. All throughout my life, I had been a chubby boy. When I saw him, I made it a point to lose some of my excess weight so that I can be like him. However, I never really became as fit as Conan and I am still a bit overweight. Still, I can say that I don't look as fat as I used to be. And I'm still happy for that. Also, the fact that he has been very active in soccer inspired me to be active in some physical activity. That activity would turn out to be walking, and I have been proud to say that I can walk faster than many people.
Fifth, he was the character that helped make me more appreciative of anime. When the anime revolution exploded in 1999, I wasn't as excited as a lot of kids were about it, and so I didn't really become an anime fan right away. It was through him that I liked anime more, and has thus led me to admire more anime characters and have my life be positively influenced by these series.
Sixth, he was a man of goodness. He was on the side of justice and truth. His dedication to what is right inspired me to do good in my life and to be a responsible member of my society. Yes, he has his share of mischiefs, and I also have some of my own mischiefs. But ultimately, he is on the side of good and I am with him on that side.
Seventh, he was a guy that I would have wanted as my friend or my older brother. Maybe because I never had an elder sibling that I really feel like having a cool, smart, and good guy like him as my brother, or at least his friend. I could almost relate to him that I consider him as the best friend I never had or the best big brother I never had.
I probably haven't shared everything that I love about Conan. I write this piece with so much passion that I always feel like there's something missing. Nevertheless, Conan Edogawa has been my most favorite character in my whole life. I admire him so much that I bought the Detective Conan Happy Meals, resisted the bootlegged DVDs of the series, and proudly sported a 270-grade eyeglasses for my nearsighted vision. My intelligence, my goodness, I owe much of it to Conan.
Conan Edogawa was my childhood and teenage hero, and he is still my hero up to this day. Conan is an indispensable part of my life. Without him, I could not imagine my life to be even more brighter.
Arigato gozaimasu, Conan-kun.