This is what I want for Christmas:
- a waterproof beige/dark blue bucket hat with a zipper (refer to previous post)
- an original VCD or DVD copy of the film Bayaning 3rd World
- a paperback copy of Ron Paul's book Liberty Defined
Now here's the problem with all these three items: they're really hard to buy.
The bucket hat would have been easy and cheap to buy since I now know where to find it. However, the store that was selling this bucket hat went up in flames yesterday. So now I'm back to finding that hat again.
For the VCD, I actually found a place to buy the item. The problem is that I would have to buy two other VCDs at the same time. And honestly, the other films being sold ain't my cup of tea.
Lastly, the Ron Paul book isn't available until next month. Sure, there's a hardbound copy available already, but I'm not a huge fan of hardbounds and it's a bit expensive for my budget.
So there. Guess I'll have to find something else. *sigh* But if someone buys it for me, that would be a blast.
That's all for now. Might post something else later. Have a merry Christmas everyone.
Well, it's finally Christmas Day. So how have all of you been?
My Christmas was okay. Attended the Christmas mass, had a little Christmas dinner, then had a little Christmas sleep. Basically, that was it. If you're curious as to what we ate, we had baked macaroni, fruit salad, and some roast pork (not sure if that's the term for it, though). I slept early than usual since my body was a bit tired.
As for gifts, the only one I received was the PHP 1,500 cash gift (approx. US$ 30) that my grandmother gave me. I don't plan on spending it, though. I'm gonna have my thesis once I become a senior student on June next year, and a few reliable sources have told me that funding for the thesis would cost at least PHP 10,000 (approx. US$ 200). As such, I need to start saving as early as now in order to minimize any problems I'll have with the thesis before I even encounter such problems. Yes, it's a group work, but I can't always keep on depending on my groupmates to finance the thesis work.
Anyway, I have a new fanword out right now in time for the Yuletide season. It's entitled, Anime Christmas Carols, and is basically Christmas jingles with an anime twist. This is actually a repost of what I made back in 2005, but with an added bonus. And...well, you can always click the link on top to read it.
And that ends my post for today. Happy Holidays!
ANIME CHRISTMAS CAROLS (AUTHOR'S NOTE: This was originally posted on December 20, 2005 at theOtaku Articles. A new jingle has been added to adapt to the times. Hopefully, the Christmas spirit is still as lively as it wa...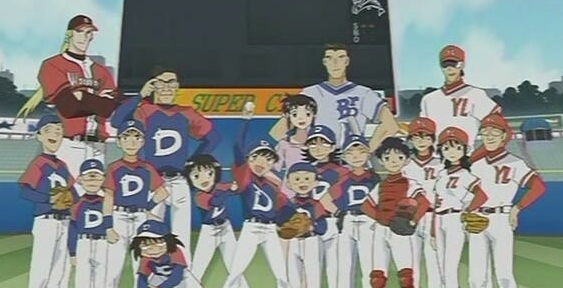 Anime: Major. Taken from Fansub.tv. Owned by respective owners.
I've uploaded a new avatar yesterday, but my computer is still showing my Conan avatar. If ever you see my avatar (probably in my

Portfolio

page), could you please tell me how it looks like? Is it still Conan or is it different already?
Not too long ago, I mentioned

in this post

how my World got over 8000 hits in six months. Exactly a week later, my World got 9000 hits. It was that fast. When you consider the number of comments that my World gets in every post, I can't help but wonder where these visits are coming from.
I'm starting to like the anime series Major. The series centers on Goro Honda, a boy who aspires to become a baseball player like his father and plays for the Little League Baseball. As the series progresses, Goro continues to pursue that dream during his teenage and young adult years. I'm no fan of baseball so I wasn't attracted to this series in the beginning. But later on, the story of this series and the character's profiles caught my attention, and it really got me interested. Not to mention the fact that I also enjoyed listening its opening theme songs. (P.S. This show is being broadcasted on a local cable network here, so I watch it directly on TV.)
It's really odd that a guy like me who regards sports as his weakness would enjoy watching sports-oriented anime series. Aside from Major (baseball), there was also Hajime no Ippo (boxing) and Eyeshield 21 (American football). And yet, I didn't like Baki the Grappler and Ultimate Muscle even though it focused on wrestling, which is one sport I enjoy watching.
While going home yesterday after attending an appointment with my classmates for our class project, a couple of kids went inside the jeepney I was riding and started to sing Christmas tunes. That officially reminded that it's Christmas season already. By the way, Christmas season in the Philippines doesn't begin on December 24. It begins on September, the first of the four "-ber" months.
On October 18, I'm going to be spending my 5th year of existence in this site. (Normally I would say "the 5th anniversary of my myOtaku", but my myOtaku is semi-retired already.) So I plan on posting a weekly fanword as part of my celebration. Hopefully, the plan pushes through.
By the way, the title of today's post is a quote from Major.

That's all for today. HAVE A NICE DAY!