10$ sketch commissions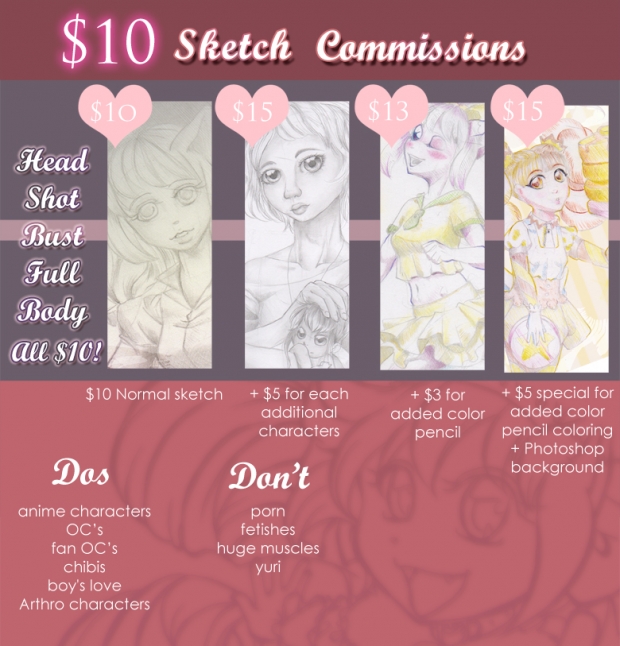 I'm opening 10 dollar sketch commissions you guys! Any kind from head shot to full body, any sketch for 10$ (plus PayPal fee).
$5 for each additional characters
$3 for added color pencil
$3 for added Photoshop background
$5 special for color pencil coloring + Photoshop background
You must pay before I start
Please give ref/info of your character
I might decide to shade a picture or not, in a anime/soft shading or not. It depends really since I'm not always up for shading a picture (read fear of screwing it up). So you been forewarned. :|
Do's
anime characters
OC's (please give ref)
fan OC's (please give ref)
chibis
boy's love
Arthro characters
Don'ts
porn
fetishes
huge muscles
yuri
If your interested PM me or comment below. Prices are negotiable depending on how many add-ons you choose. If you have any questions feel free to ask.
TOS
The picture itself is yours but you can't claim that you drew the picture.
You can use the picture for personal purposes like avatars, graphics, blogs, wallpapers, and etc but you can't make money off of the picture.
I have the right to turn down any commission that I choose.
I have the right to add a commission to my online portfolio, websites, blogs, and etc.