W E L C O M E
Hello Everyone ~
I hope that you are all having a great night/day
In my last post...if you read it...
I basically talked about how I was trying to get more organized and how I had all these cool plans for myself and things that I wanted to share with you.
The day after I made that post I started having issues with my laptop.
Basically it would not load past the screen where it says something like "Windows is starting up" or whatever and I tried multiple ways to fix it...but no dice. I have a friend who went to school for computer repair so I took it to him and he to him and he told me that my hard drive had died >.>
The only way for him to fix it was for him to basically rebuild my laptop from the inside. He only charged me 20 bucks, but I felt bad and gave him a lot more than that.
It's almost like I have a brand new laptop.
Sounds good right?....But unfortunately my friend was only able to back up my pictures and a few songs I had. ...so all of my Microsoft documents are gone, all of my programs I had installed are gone, and all of my pre-recorded but unedited YouTube videos are gone..and all the half-finished YouTube videos gone...so that's saddening.
But hey, videos can be re-made. It's not all that hard.
The only thing is my video editing software that I was using, Sony Vegas Pro 11
I cannot seem to find it anymore. I can only find 12 or 13 and...they're so expensive....I was still learning how to use pro 11 too T.T
Needless to say, everything will kinda be on hold/pushed back for a bit until I can figure everything out.
Kinda sucks even more because I just got a planner and scheduled everything.
Something else that sucks is that I really wanted to go to an anime con in Lansing this weekend. Shutocon was what I thought was going to be my first con of the year...especially since I don't live but like 45 minutes away from that city...but none of my friends wanted to go with me/they bailed on me at the last minute and "could't go" or "forgot" even though I've been kind of spamming them about it because it was an experience that I wanted to share with them...but I guess that's whatever. There will be other cons that I can hopefully go to.
I'm going to end this post here ~
I apologize that this post isn't a happier one, but I wanted to let you guys know whats been happening.
I will not let any of this get me down for too long. I just have to figure some things out and get back on top of things.
For all the people at Shutocon, please be safe and have lots of fun for me. I will be stalking the tags ~
CrimzonN3k0 z
AKA
KawaiiSTARcrunch
Hey there, everyone. It hasn't been long since my last post and I thought that I would give you all an update as to how things are going for me at the moment. In my last ...
If you haven't gotten any gifts for that "Oh so special someone" Or fi you are just a very giving person and you want to give your friends a Valentine's Day gifts ~ Here are very simple and inexpensive gifts that you can make at home ~...
Well, well, well, everyone ~ it is about that time again!!
It is time for me to thank all of you readers for pushing my world up another 1,000 views!!
It really does mean a lot that you all take the time out of your busy lives to come and read the random crap that I have in my head/stupid things that happen in my random life XD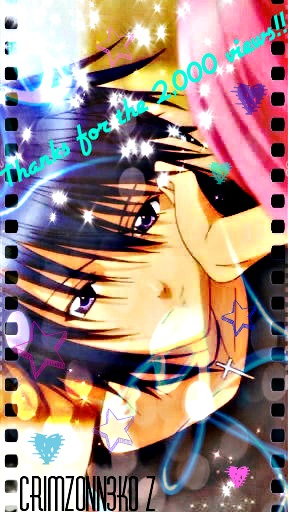 ~~ THANK YOU ALL FOR THE 2,000 VIEWS ~~
Love you all,
CrimzonN3k0 z
(pic edited by me)