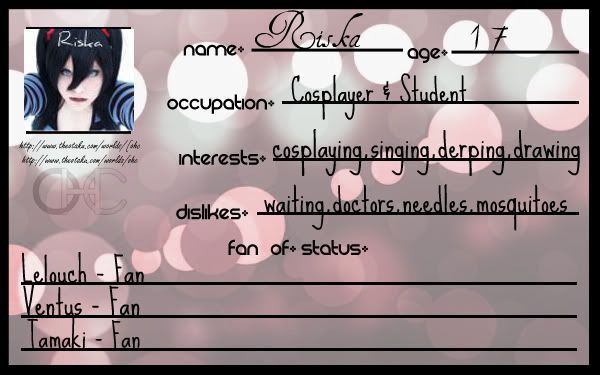 COSPLAYS/CONVENTIONS OF 2011:
January FYEcon - Casual!Zatsune
[email protected] 2011 - Miku Zatsune from Vocaloid, Luki from Dogs, Sync!Rin from Vocaloid.
April FYEcon - Matryoshka!Teto
Anime Boston 2011 - Zatsune from Vocaloid, Matryoshka!Teto, Trap!Ciel from Kuroshitsuji, Panda Hero!Miku, Ball Gown!Miku, Youji from Loveless
Connecticon 2011 - Luki from Dogs(remaking the hat and tail),SURPRISE COSPLAY <3, Youji from Loveless (will have a new wig)
May Cosplay Picnic- School Girl!Ciel
AAC 2011- SECRET COSPLAY AGAIN. Not sure of what else
Stalk- I mean... Follow me?
Tumblr
Formspring
Youtube
Deviantart
~Riska