Hello!! I've been away from theO for a realllllyyyy long time!
In case anyone have already forgotten me, (which I think a lot did haha), I'm going to make a brief introduction...
My name's Tafu-chan
My favorite character is Eiji Kikumaru from The Prince of Tennis (he's the first character which I really loved but after almost 6 years of being an anime lover/addict, I now have a lot of favorite characters)
I'm not that good in drawing AND making digital art but I think I have improved in making wallies now, I'll post some sometime.
I was super active here in theO last 2-3 years but due to college, my time for everything's been reduced (drastically).
I hope you remember me! And don't forget me too (that's gonna be sad)
Okay, so about the recommendation that's probably the reason why you clicked on this post, I'll start
Here's the link:
http://kissasian.com/G/228588?l=http%3a%2f%2fkissasian.com%2fDrama%2fFrom-Five-To-Nine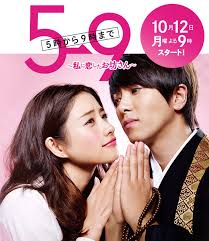 About the Movie:
Sypnosis (copied from kissasian):

Sakuraba Junko, an English language school teacher, has had no boyfriend even before her 29th birthday and dreams of working in New York. But one day, she encounters a handsome monk in the worst moment when she attends a funeral service at a temple. Because of numbness in her legs, she grabs the altar and ends up emptying the ash from burning incense on him while he is chanting the sutra. Although a rueful Junko thinks they will probably not meet again, she is deceived by her family and made to go for a matchmaking session. The other party is none other than that monk, Hoshikawa Takane.

Why I'm recommending this:

I watched the movie first before reading the manga and I was amazed that for the first time ever, I liked the movie more than the manga. Maybe it's just because I hated the first chapter (and somehow my judgement became prejudiced) but really, I liked the movie so much. It's funny and cute even though its irritating sometimes. The ending was good, you won't get disappointed! Anyway, I'm just recommending this :) I'm not forcing you to watch it

Also, I'm not exactly sure that you'll like it but it's very realistic unlike the other JMovies that I've watched that's from a manga.
Oh! I'll also recommend the site to you. I don't know if kissasian is popular in your country though. Give it a try.
Kissasian, kissanime, and kissmanga (there's also kisscartoon!) are my top 3 favorite sites for kmovies, jmovies, asian movies in general, anime and manga.
The feature that I liked is that you can organize the things you want to watch and read and there are a few ads. There's also an advance search so you can pick which genres you like and if you want a complete series (because waiting for a new chapter or episode is painful).
This is the end of the post. I hope you liked it! And I hope to see you again!
~tafu-chan
PS. Please recommend some sites where I can stream American, English, etc movies and series in the comment box to help my poor soul who's dying to watch more movies until I turn into a Zombie.