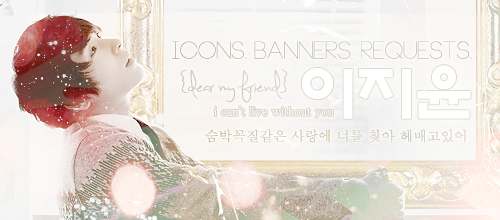 WELCOME TO JI'S CORNER: When I'm bored, I try to finish some icon/banner requests. If you like my work and would like me to make you something, then feel free to post here. Regardless of whether or not I'm capable of finishing your request, I'll reply to you.
I will also be posting old icons that I have made for myself. If you'd like to use one, feel free to.
Request Status:
Wallpapers: Closed
Cards: Closed
Icons: Closed
Banners: Closed
Other: Closed (must specify)
VERY SORRY FOR THE INCONVENIENCE, BUT LATELY SCHOOL + EVERYTHING ELSE HAS BEEN OVERWHELMING MY LIFE SO I MAY NOT BE ABLE TO FINISH ANY REQUESTS FOR AWHILE. FOR THE PEOPLE WHO HAVE ALREADY REQUESTED SOMETHING, I WILL BE TRY TO BE DONE BY WINTER BREAK BUT NO PROMISES. ><
When you make a request, please state the following if possible:
Character/person/theme
Colors preferred (*OPTIONAL)
Would you like your username on it/them?
How many icons would you like?
(And I can do very simple animation: for example, fading clouds are stars. It does take awhile, but if you'd like something simple, feel free to tell me and I'll try my best. No promises though)
To request, post on my portfolio or PM me. (I will probably miss your request if you post on this world)