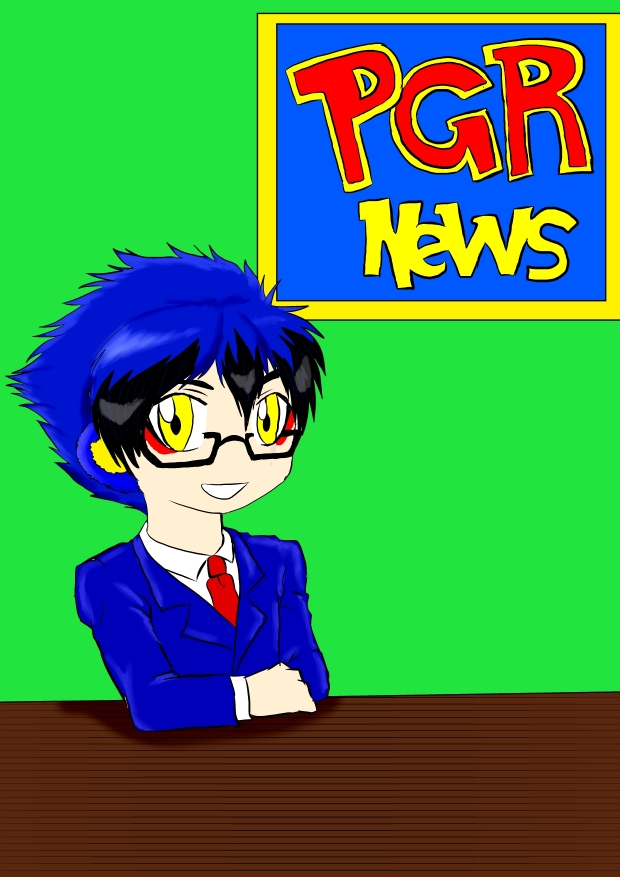 Lux: Hello and welcome to the PGR News 2012 Wrap Up!!! As you all know, you all miss me! ADMIT IT ADMIT IT!!! Well I'm here today with two special guests because apparently I am a leader. Who knew? Hahaha, not that I like to brag but I do have some pretty sick leadership abilities and drop dead sexy! *winks* Anyway, it really delights me to welcome my fellow leaders of PGR Nyarth and Tanner!!!
Nyarth: Hi hiiiiii! It's great to be starring in this newscast again-nya! We got a lot to talk about, so get ready!!
Tan-Tan: *rolls eyes and shuffles papers* Yes, yes we do... Even though I'll probably get stuck in a pot again....
Nyarth: *giggles* I have a bottle of water ready to keep you hydrated, when that happens!
Lux: Hey wait a minute, even though we aren't blood related sport, isn't this nepotism working together? *confused look*
Nyarth: Net-toe-ism? What is that...?
Tan-Tan: *rolls eyes* Something you... oh never mind.
Lux: Nepo....yeah forget it...*looks at Tanner* Hey with all those papers....you are pretty rad! Eco-friendly I bet!!! You recycle yourself yeah??? *smirks*
Tan-Tan: *glares at Lux* Don't start with plant jokes, please...
Nyarth: *looks into the camera and recites* Here in PGR we always do our best to treat our environment with respect!!
Lux: *chuckles*
Tan-Tan: *deadpans on the desk*
Lux: So always remember, GO GREEN!!! *gives thumbs up*
Tan-Tan: I'm not GREEN. I'm BLACK DAMMIT.
Lux: Tanner I have a question for you! *smirks*
Tan-Tan: *starting to get irritated but turns to Lux with a smile and says through gritted teeth* Yes, Lux?
Lux: How did you get so Tan? *pushes roll chair away from Tanner in loud pitch laughter*
Tan-Tan: *deadpans and sends a quick Solar Beam his way with his hand*
Lux: HOLY CRAP! *runs away from beam* I AM JOKING JOKING!!! *tail gets burned a bit* MY TAIL!!! *comforts it*
Tan-Tan: Sure, you were... *very annoyed*
Lux: *kisses tail and whispers* Jackass....*rubs it*
Tan-Tan: *rolls eyes* Thank you for the compliment *smiles*
Lux: *snaps fingers and fires a thunderbolt at Tanner*
Tan-Tan: FUCK! *gets hit and his hair is partly fried* THANKS A LOT, DIPSHIT.
Lux: Yoooooouuuuuuurrrrrr wwwwwweeeeeellllllllcccccooooooommmmmmeeee!!! *sarcastic* As you can see this year has been filled with plenty of fights!
Tan-Tan: *strokes hair and looks away*
Nyarth: *speaks up* Okay okay!! Let's get down to business-nya!! What was the first thing on your papers, Tanner?
Tan-Tan: *takes a deep breath and stops stroking his hair and looks at his papers* First thing on the list are the highlights of the past year!
Lux: *still cuddling to tail*
Tan-Tan: First off is how Lux and Arc dissapeared to some girl's mansion and are now her pets! *has hair drag Lux back over to the desk*
Lux: *clawing at the floor eyes wide* RAPE!!!
Nyarth: Brother, I always thought you were a strong, independant pimp but you are really just a tame house kitty-nya!
Tan-Tan: *looks through papers* I don't see here that you got raped... *smirks*
Nyarth: Is that the example you want to set for me? *smirks*
Lux: *stands up and fixes self* Nyarth, I am....just Tanner....he has many things that poke....
Tan-Tan: *deadpans once more*
Lux: Anyway *points to the television screen* I am the hero...leader...boss...so thanks to Tanner I was side tracked...*sits down* Let's get down to business!!
Tan-Tan: Sure... You weren't totally side tracked with the idea of you fucking Shupple or anything.
Lux: *turns red and looks down* Not like you didn't have that happen with Estelle....I bet Nyarth wanted to dry hump Raine when she was here....
Nyarth: *turns red* Wh-why are we talking about this stuff-nya??
Tan-Tan: Well, I'm not in love with Estelle anymore... She would've chosen you anyways *sighs*
Lux: Wait a second, Nyarth....have you had *fingers in air* "the talk"
Tan-Tan: Yes, have you, Nyarth? *smirks*
Nyarth: ....no? *tilts head* talk about what?
Lux: The birds and the bees *looks to Nyarth*
Tan-Tan: *puts down papers* I think we should tell him, Lux.
Lux: Indeed I think we should....
Nyarth: I'm all ears, then-nya!! Is this a talk about girls??
Lux: *scratches cheek* Indeed it is....
Tan-Tan: *scratches hair* To put it simply... You have two people who are in love with each other...
Lux: You know I think we need to save this for another time....this is a wrap up but not that kind of wrap up....*chuckles*....so lets talk about the girls of the club this year!!!
Tan-Tan: *smiles and turns away from Nyarth* Yes! There were many changes in the women this year! Like how Shupple won the sexiest woman!
Nyarth: Yes! I was sure that Delin would win that-nya!! *giggles* He is... how does he say... "FABULAAAAS" *mocking Delin's voice*
Lux: *smirks at Delin comment* Indeed Shupple did plus we had some girls join the mansion such as Kiiro, Mist, Chandacy and Tsuki who has yet to show herself....hell whats with Dark types being so lazy...
Tan-Tan: As did Krory, Lux! *looks at Lux curiously and smirks at the Delin comment* Did you forget her or something?
Lux: Oh yes, haha, I totally forgot about her!!!
Tan-Tan: She is a pretty interesting person! And I have no idea where she is from, Nyarth! *chuckles*
Nyarth: She talks really funny, half the time I don't understand what she's saying-nya! Where is she from?
Lux: She, I believe, has probably one of the most unique languages I have ever seen but also the most difficult to understand that I have seen in this club. Isn't she from the Desert Resort in Unova?
Tan-Tan: All I know is that she is from the military! Now, let's get to how Chandacy, through training, can now control her fire and Haxila is kicking all of her trainees asses in training!
Lux: *nods* I find it very amusing that there are two new ghosts in the club this year. That Mist girl is very...fasinating if I do say so my self. Beautiful and talented!!!
Nyarth: Krory seems to think so too! She gets all red around Mist-nya!
Lux: Maybe she's a lesbian *spins around in chair*
Tan-Tan: Very much! It seems everybody has picked up their game this year in becoming more talented! *looks at Lux* She could be bi.
Lux: *shrugs* That is true.....now Kiiro.......*rubs head*....she gives me a headache and I can't believe her and I are the same type! *cries* S-she, she's so weak and fragile like a little mouse....
Tan-Tan: She's a bit... peppy for my taste...
Nyarth: I don't think she's that bad. I guess you need a lot of patience to put up with some people-nya! *chuckles*
Lux: Nyarth....you should really chase her around the mansion sometime...I bet she would "love" a game of cat and mouse. OH! Also yell, "I'M GONNA EAT YOU!!!"
Tan-Tan: *chuckles*
Nyarth: Hahahha!! That sounds like a lot of fun!!
Lux: *nudges Tanner* Make sure you film that for me pal....I want to see Nyarth and Kiiro...*grins*
Tan-Tan: That sounds... enjoyable *chuckles* Something very much to see... Now, let's get to how Estelle has returned to the mansion and Lupe is nowhere to be seen with her!
Nyarth: Weren't they sisters? I wouldn't bear to be away from Estelle or Lux forever-nya! They are all I have left! *cries*
Tan-Tan: Well, you have to think, Nyarth... Lupe is a bunny, not a cat! They aren't blood-related...
Nyarth: You aren't blood related to me either, but that doesn't matter to me-nya.
Lux: You're catnip!! *grins at Tanner* So you are practically family!!!
Tan-Tan: *deadpans* No... *continuley bangs head on desk*
Nyarth: Doesn't that hurt, Tanner? *blinks*
Tan-Tan: No, it doesn't... *blood is coming out of his head but he doesn't care*
Lux: *grabs Tanners head and bangs it for him* HEY COME OUT ROLAND!!! COME OUT WHERE EVER YOU ARE!!! *bangs head harder while smiling like an idiot*
Nyarth: *shakes* NO!! Don't bring out Roland-nya!! He's mean and scary!!
Lux: *stops and looks at Nyarth* He isn't that bad....he's just misunderstood.
Roland: STOP BANGING MY FUCKING HEAD OR I'LL BANG YOURS INTO A PENCIL.
Lux: Scratch that....he is understood....
Roland: *scowling*
Nyarth: Continuing on, I didn't think Maria would hold up during training but it seems like she's hanging in there-nya!
Lux: Oh cheer up man! We were talking about....*leans over and whispers* boobies
Nyarth: Do you think she will be okay in battle?
Roland: *rolls eyes* God, shut up, Lux... Don't make me want them more.
Lux: *sits back up straight* Are you talking with Patrick by her side or not?
Roland: Seems like she can't even take a hit... Wonder if she'll live in the war.
Nyarth: Well seeing as they never leave each other's side, I guess I'm talking about the both of them together!!
Lux: Nope....she'll die.....she's as good as dead! Good shark bait though!!
Nyarth: They are stuck together like... peanut butter and jelly-nya!
Roland: Yep, pretty good sharkbait... I wonder how much she'll bleed...
Lux: Personally speaking.....she's kinda like Kiiro to me.....another electric type that has no back bone....she relies too much on Patrick! She'd be a mere snack for the sharks...
Roland: She needs to grow a pair before Patrick loses his in the final fight.
Lux: *in funny voice* No balls for you! *laughter* I believe that mocks a guy from a show called, Seinfeld.
Roland: *starts to laugh* I don't watch TV...
Lux: Well since we are talking about seductiveness, how about Haxlia....seems like she dresses more...how do you say...eye catching, but her ways are starting to settle down...
Roland: She dresses too much like a slut, but since Krory knows her secret, it seems that was the only way to make her tame. Is that what you mean, Lux?
Nyarth: Oh! That's the lady who I met earlier! She was really nice and she hugged me a lot-nya! *blushes*
Lux: Honestly I don't know what that means either Roland.....and Nyarth *tears up* You lucky man! You got to be in the valley of bliss!!
Roland: Well, I'm insane. Sue me.
Lux: Not worth the time or money for a lawyer....now onto a girl who is very sweet, pretty, and very skilled at dancing, Kiki! Obviously she is probably one of the strongest girls in the club! *smiles sweetly*
Roland: I don't see how she's strong though... The only thing she is strong in is rejecting Xio for the sex he wants from her.
Lux: IDIOT!!! *starts slamming Rolands head against news stand* Xio could be watching!! *slams his head repeatedly* I'm trying to kiss ass!!! TANNER COME BACK TO US!!! *keeps slamming it*
Roland: *grabs Lux's head with one and, gets a pencil with the other, and slams Lux's head beside the pencil* DO YOU WANT TO HAVE A HOLE IN YOUR HEAD.
Lux: *frozen* Odd....this reminds me of a movie....like....do I want to see a magic trick....*shivers and stays still*
Roland: *lets go of Lux* You get my point then... *frowns*
Lux: Yeah...I got your point....*felt it from behind*.... ;A;
Roland: *grabs pencil and slams it into the table* Now, let's continue with this... exciting news...
Nyarth: I definitely hope we can rescue Damaris soon!! So when will the fishy war happen??
Roland: Yes, hopefully, we'll get her back soon so we can stop hearing Delin's screams every night from masturbating...
Lux: OMG ROLAND!!! *falls over and holds self in a ball* I think I am gonna be sick........*shivers and sits back up* Nyarth....Soon I think....not entirely sure when....it would surely be nice if Sneari just used a blizzard and froze the water and then BOOM....end of war
Nyarth: That's genius-nya! We should talk to her about that!!
Roland: *smirks* Well, if she did that, we would have a bunch of ice and nothing to do with it except stab the ones we hate with it...
Lux: *scootches away from Roland* You know if you did that....it would be suicide....
Roland: *grins* Oh, I'm killling Tanner in a few months. No doubt about that. Don't need ice to do it. Just need to kill him from the inside. Limbo, here I come.
Lux: *frowns* Maybe I should have Maura beat the crap out of you since a steel type would be practically invincible to you
Roland: *rolls eyes* Oh, please, all I need is a bit of supplies to make a- *shuts up* Never mind.
Lux: *narrows eyes* Whatever....*turns back* Next on the agenda is evolution...girl talk never really shuts up....I can't take it anymore. Now Evolution, we go to Nyarth!
Nyarth: Yeah-nya! I should be evolving soon!.... *falters*
Lux: ....and......
Nyarth: *rubs arm and expression clouds* I dunno. Should I? Will being a Persian be better than how I am right now? What if I'm different?
Lux: *sighs* I don't know....normal types are just....well normal.....I was hinting that you should talk about Delin...
Nyarth: I can't help it that I'm a normal type... *looks hurt*
Lux: *rubs his head* Evolution doesn't hurt..it differs for everyone I won't deny that...but its what you make of it...you will likely become stronger...*smirks*....like me!
Roland: Being a normal type doesn't mean that's anything bad... *sighs* All it means is getting more powerful. I'M GIVING ADVICE. WTF.
Lux: I kinda miss Tanner....*pouts*
Nyarth: *ears perk* You're right! I will get stronger! And I really need to, I want to be able to fight alongside everyone else in this war coming up-nya. I guess evolving won't be all bad...
Roland: Gahhh fine, I'll get the bastard back...
Lux: Nyarth...when you evolve it will make you a bigger cat which means...you are a house pet and need to be neutered...just saying.
Nyarth: Neutered-nya?! *shocked* I don't think I need that!!!
Lux: *wiggles fingers* Then they will make you use a liter box....*grins*
Nyarth: But... I like toilets!!! *panicking*
Tan-Tan: And give you a collar to wear with a leash on it... *smirks*
Lux: Welcome back Tanner! *high fives*
Tan-Tan: *high fives Lux back and then sees the pencil in the desk* What's with the pencil...?
Lux: Nuttin! *looks away* OH AND Nyarth they make you cough up hairballs!!!
Nyarth: Roland was threatnening Lux!! *holds neck worriedly*
Tan-Tan: O..o Okay, then... *looks at Nyarth* And they make you play with them and it doesn't matter how tired you get!
Lux: Then whatever you cough up....you have to re-eat later that day *shivers* Thats why maybe you should really consider what it would be like to evolve....I mean do you really want to be a house pet? Look at Delin...he evolved and he's worthless now....has wings but can't even fly! He's a penguin!
Nyarth: Th-then I don't want to evolve-nya!!! *shaking*
Lux: *smiles and pats Nyarth* Smart choice!!!
Tan-Tan: Isn't Delin supposed to have a second head as well?
Nyarth: I like my freedom!
Lux: *leans close to Tanner and whispers* He DOES have a second head *points down* Why do you think Damaris likes him so much? Dragons are a strange species....
Tan-Tan: PFFFT *starts laughing* Right, right!
Lux: *nods nods*
Nyarth: *giggling*
Lux: Alright ladies and gentleman! We will be back after these short messages!
Lux: Welcome back!!! I hope those messages were inspiring, enjoyable, and filled with useless information to fill your minds with.
Tan-Tan: And now we bring up more exciting topics than those that were just shown to you!
Lux: *looks at Nyarth* Are you okay? Did that evolution thing scare you??? You look like you need to lye down....
Tan-Tan: Yeah, dude, you don't look so well... *has a concerned look on his face*
Nyarth: *is looking pale and a bit tired* Yeah... it is really late, I guess I should go to.. *jaw-cracking yawn* ...bed-nya
Lux: *nods* Thanks for helping sport *pets him* Night!
Tan-Tan: Good night, Nyarth! *smiles*
Nyarth: *purrs* Thanks for having me, Lux! Night Tanner!! *scurries off*
Lux: *blinks* Alright moving on...time for the MAN TALK!!!*looks at notes* Whats on the angenda Tan Tan?
Tan-Tan: *looks at notes* Well, we seem to have Estelle back at the mansion but Lupe didn't come with her!
Lux: Whoot!!! THE BUNNY IS GONE!!! PARTY PARTY!!! *runs around in a circle*
Tan-Tan: FINALLY! No more stress lessons with that damn woman. *wipes brow of sweat*
Tan-Tan: Well, what are we to decide on about Estelle, Lux? With us two, I mean... Will you get her?
Lux: Estelle....*shrugs*.....I don't really know....right now I am focusing on my training, protecting Arc from that wench Lily, and making sure I survive this hell. Honestly, I am not sure what will happen when I see Estelle again...
Tan-Tan: Well, just so you know, I'm not in love with her anymore... I lost my love for her when she left four months ago. Hopefully, we can become friends... And good luck with her, dude. *smiles and claps Lux on the shoulder* Hopefully, we too can become friends.
Lux: *wraps arm around Tanner* What do you man become friends....dude we ARE friends.....well...maybe not in the storyline but we are! As far as I am concerned, she abandoned us and right now whats most important to me are my friends and surving this war.
Tan-Tan: Very true, very true, Lux. Bros before hoes, right? *laughs* Let's get on to the next topic, shall we?
Lux: Indeed we should, so we have some new males to the club.
Tan-Tan: We do, we have Tristyn the Togekiss, Ewan the Shiny Eevee, and Hideki the Hitmonlee, who has also yet proven to show himself in the story line. It seems that Tristyn has a thing for Krory and for clothes, though!
Lux: Odd how females out number the males and yet we have more males in the mansion....Tristyn is apparently this great fashion designer or something like that. He hasn't really done much in PGR yet. Ewan is a shiny and sadly is like Ironman and will die if he takes the stone out of his chest PLUS he will never evolve! Sad day for him.
Tan-Tan: Yes, very sad for when that comes, though he has admitted to loving Chandacy! Why to pick up the game and get laid, Ewan!
Lux: Wait they....*eyes widen*...did the deed....but how...he's a normal and she is a ghost.....it has no effect....hahahaha
Tan-Tan: Hahahaha, not what I meant! It's just proven through that crazy mind of his that he does want to get laid... It also seems like soon enough, we'll be having a few more people joining the mansion as well! A possible girlfriend for Nyarth and a girl... for... me... WHO THE HELL WROTE THIS SCRIPT?
Lux: Wait.....*eyes bigger and stands up*....are you saying Chandacy is PREGNANT?!?! *falls over* You're getting a girlfriend and so is Nyarth.....before me...*grows mushrooms*
Tan-Tan: *deadpans* No, Chandacy is not PREGNANT! Ewan wants to get laid, Lux! JUST LIKE I DO! AND JUST LIKE YOU DO! AND ANOTHER THING, stop growing mushrooms. *flicks a mushroom at him* I don't even know what this girl is like! Apparently, I get laid when I'm with her, BUT STILL.
Lux: *falls deeper into self pity and sorrow*.....I will die alone....I'll be an old man with 100......canaries....
Tan-Tan: Oh, dear Arceus... *deadpans and brings out a bucket of water and dumps it on Lux*
Lux: *layes there* LOOK AT THIS PUDDLE I HAVE CRIED!!! *cries*
Tan-Tan: I thought cat's were afraid of water... *deadpans*
Lux: *sits up and shakes water off* I'm a lion....I don't fear it...
Tan-Tan: But you're still a cat, dumbo. If you don't fear it, then what do you fear?
Lux: *curls up in a ball* Being alone......
Tan-Tan: Gah, holy crap... *gets up, picks Lux up and sits him in his chair, gets rope, and ties it around Lux to where Lux is sitting up*
Lux: *blinks* What are you doing man???
Tan-Tan: *raises eyebrow as he sits back down in his chair* Making you tell the news since all you want to do is curl up in a ball and masturbate because you think you'll be alone all your life.
Lux: I don't do that okay....Delin masturbates like you said earlier....I'm just scared that i will be forever alone....like Rai who is too terrified of women!!! He will be alone forever!!! AND I don't want to be Glyph who kisses everyone and I can't tell if he is straight or gay!!
Tan-Tan: I thought Rai was gay this whole past year... O..o
Lux: MAYBE HE IS!! I don't want to be neither of them!!! *looks at list of male characters* ARC IS WITH ME DAMN IT ALL! Luca went off to training. Patrick has gotten stronger by Krory but still is on a tight leash with Maria.
Tan-Tan: And I'm well... insane and have too many problems with my body and have a deep, dark secret that only Krory and Xio know...And what's with Xio? HE'S BEING NICER... well, in a way...
Lux: What are you friends with Xio now? *glares* He is?
Tan-Tan: NO. HE SCARES ME… Yes, from what it seems, he's loosening up around his students...
Lux: That's Xio....as far as him being nicer....its probably has to do with him wanting something....that tends to be his ultimatium...or could it be....? *shocked*
Tan-Tan: *looks at Lux curiously* Could it be... what?
Lux: *shivers* Stay away....he's being nice for a reason....but...don't drop your guard....that's all I can say....if it has to do with the war and what I am thinking...I would stay on his good side....kiss his ass, do what he says, whatever it is....don't anger him....
Tan-Tan: *gulps* Well then... I already messed up... *looks down nervously*
Lux: Maybe you can fix that....not sure how....
Tan-Tan: Well... there is what I do as a criminal... That could be useful to him... or the high bounty on my head *gulps nervously* Heh....
Lux: *blinks* Well I just learned somethings about you *uses claws and gets out of ropes*
Tan-Tan: *starts to scoot away from Lux* Heh...
Lux: Whatever, I am not judging...
Tan-Tan: Right... *gulps* Let's move on to the next topic...
Lux: Alright next on the 2012 Wrap Up are the infamous Gags featured by Toyo, girl if I see something from this Wrap up as a Gag, I will love you forever!
Tan-Tan: Now, there have been some pretty good ones this year that have made me just fall out of my chair!!
Lux: Well one of my favorites is, sadly, the chick magnet...honestly wasn't expecting it but its damn true!! Hahaha!!!
Tan-Tan: Very much!! One of my favorites is her recent one with the candy comic, showing me off with candy stringed in my hair!
Lux: Seriously, thats gross! Keeping candy in your hair...
Tan-Tan: It wasn't my choice... Anime suggested it...
Lux: Not my problem....still nasty
Tan-Tan: It could've been worse... Like the PMS joke on Xio... And Toyo granting wishes with Glyph about to lick you. *smirks* I'm Tan tan and I am gay! *Lux added extra info during conversation*
Lux: Yeah that was funny but I will be honest I was a bit confused with that since it was kind of all over the place....another one that I liked was Haxlia trapping Rai with an Apple and glomping him.... DUDE SHUT UP!!! By the way why did you admit you were gay?
Tan-Tan: WTF, I AM SOOOOO GAY.
Lux: *points above* No lies its right there....apparently you are sooooo gay *is amused at his doing*
Tan-Tan: *looks up* WTF, N, STOP CHANGING WHAT I SAY
Lux: I, Lux, have the power!!! *laughs*
Tan-Tan: NO. *kicks his chair and him across the room towards a light fixture*
Lux: Oh really??? *eyebrow raise*
Tan-Tan: Oh, sorry, what? *looks up* I don't see anything.
Lux: Don't tempt me *grins*
Tan-Tan: *frowns and shoots another Solar Beam at Lux*
Lux: *dodges* Ha!
Tan-Tan: *frowns and his hair goes for him in the formation of a fishing net* Totally used a solarbeam with Roland last night
Lux: Now that sounded gay! *laughs*
Tan-Tan: GAH WTF
Lux: *falls on the floor laughing* Could....you....imagine if we did this to Nyarth earlier???
Tan-Tan: Oh, that would have been PERFECT. *bursts out laughing*
Lux: Next time....next time....*plotting*.....what's next Tanner?
Tan-Tan: *catches his breath* So... what we have next is the people who have left PGR this past year...
Lux: Oh this is depressing....I miss midget!!!
Tan-Tan: As do I... Sadly though, he was the only one to go this year, along with Raine.
Lux: No we lost a few other members, such as Hoom's younger brother and the friend of Glyphs, Dustin.
Tan-Tan: Oh, yes that's right, I forgot about them... It was a shame to see those two go.
Lux: I believe that is all we lost.....
Tan-Tan: Yes... *clears throat* Our last topic for this news special are the highlights of this past year.
Lux: Highlights and lowlights....*points to hair* I got some pretty sweet things like that in my beautiful hair do!!! *grins* I'm so studly handsome!
Tan-Tan: *smirks* But you are also missing an eye. *flicks the eyepatch with his forefinger*
Lux: That's not a highlight!! *shakes fist*
Tan-Tan: Yes, it is!! *laughs* It means that it'll be easier to fight you if people stay on your blind side!
Lux: Hey at least I didn't get DUMPED by Estelle!! *grins* I left her on my own accord!!
Tan-Tan: DUDE, SHUT UP ABOUT THAT. AT LEAST I DIDN'T HAVE A DREAM ABOUT HAVING SEX WITH SHUPPLE.
Lux: It was a great dream at least....unlike you who only has Roland...
Tan-Tan: *deadpans and continuely hits head against desk*
Lux: Anyway lets see, not sure if I should say this but Haxlia and Xio had sex together....>3>
Tan-Tan: How is that a highlight? *stops banging head* Wouldn't it be that Haxila had sex with Luca?
Lux: Ahh first time we saw that in PGR....MOVING ON....OH! Kiki and Xio finally became an official couple this year!!! Sneari evolved into a Weaville......her new style is wicked....ummm what else...
Tan-Tan: I can't think of any more highlights...
Lux: It's so hard to remember everything in the past year....more then likely we over looked some things....
Tan-Tan: Yeah, probably... The only other thing I can think of is that Estelle got stronger at a dojo for the past four months. Otherwise, I think that's it....
Tan-Tan: And we found out that Krory has a prosthetic leg, but only Nyarth actually knows that.
Lux: As we conclude PGR 2012 Wrap Up News we really would like to thank everyone, mostly the gijinkas, for being awesome! It's an honor to be among you and I am very excited to see what 2013 brings for us. New relationships, broken hearts, DRAMA, fights, deep secrets, and who knows a few surprises?
Tan-Tan: A few surprises? I wonder what those will be! It's very much an honor and Happy New Years and welcome to 2013, everyone!
Lux: Indeed Happy New Years to everyone and we hope we kept you entertained and educated on some of the things coming next year! The leaders in the "real" world as they like to call it, hahaha, have a few surprises for all of you, humans....
Tan-Tan: Oh, yes... those surprises... They will be enjoyable! *chuckles nervously*
Lux: So until next time peace out and have a safe and happy near year!!! *waves*
-----
Happy New Years!! The last post of 2012 its official!!! This is really all in good humor and we aren't trying to be mean, we all make fun of each other!! ;)