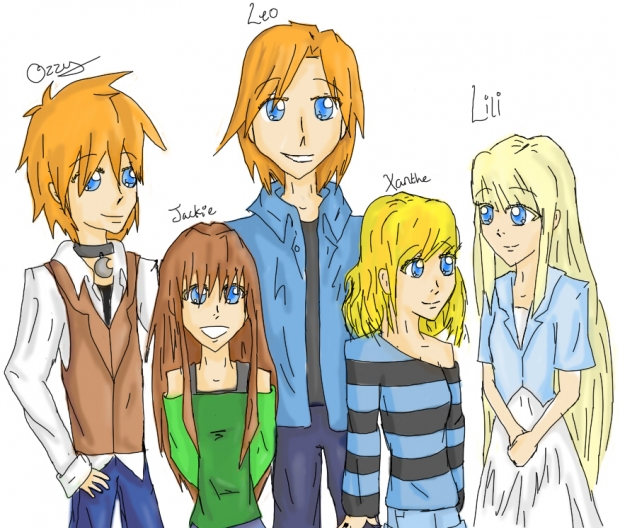 I wanted to draw Ozzy and Jackie's Family. I've wanted to draw them for a while but never got around to drawing them until now. I've mentioned them in memes in the past but there have been a couple of changes, from memes and profiles. In Ozzy's profile I said that he lived with both his parents and in a meme I said that both of their parents had died, but I've decided that they still have their father, but lost their mother and their aunt & cousin live with them. I am going to draw Ozzy and Jackie's mum, eventually just to show how she looked.
(Left to right)
(Some of who you already know)
Ozzy: the eldest of the children. Jackie's older brother.
Jackie: Youngest of the lot. Ozzy's younger sister.
Leo: Ozzy and Jackie's father, he's a physics professor. Leo and Xanthe are twins. He has to walk with a walking cane as he has a really bad hip after being knocked over when in his teens. A nice guy would do anything for his kids.
Xanthe: Ozzy and Jackie's aunt, Leo's younger twin sister. She has a daughter, named Lili. Lost her husband when her daughter was only a couple months old. She's a designer, and has a company which she runs from home, designing bedrooms and other such things and sometimes clothes. She's sweet and shy.
Lili: Ozzy and Jackie's cousin, Xanthe's daughter. Same age as Ozzy, but younger by a couple of months. Gets picked on by other kids by being called albino because of her pale skin and near white/pale blonde hair. Is like a little sister to Ozzy. She's a very sweet girl. Loves taking photographs!
Brief disgription of them, I'll add more about them as I draw them! I hope you all like them!