"It's that time again..."
"To damn the torpedoes?"
"To set to stun?"
"No... it's time for this week's caption battle!"
But first, last week's winners:
In third place with what is almost a Good Will Hunting joke: Ducky!
Unfortunately, Kagami's sex change operation couldn't erase her history in the porn business.
In second place, because picking on naive, ultra-conservative, overly-religious types is always good for grins: Ace!
Kagami: This is NOTHING like my scriptures!
And in the coveted first place with precision-guided, peer-approved laconicism... NekoTenshiEmi!
Kagami: "D...dad?!"
See? I totally listen to you guys... anyway, congrats, winners!
This week's screencap comes courtesy of Ducky and features the series Azumanga Daioh. Girl on the left is Sakaki; girl on the right is Kagura. Now do it to it!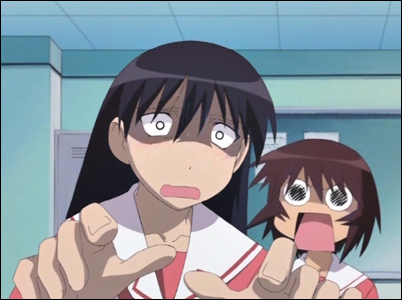 You know the drill: type up the funniest, wittiest, most original caption you can think of for the screencap above in the comments below. Also, if any of you would like some tips on writing a great caption, you can find those here.
And like always, theOtaku is open to all submissions and suggestions for weekly feature content. You have a screencap you want used, you can PM me and we can do somethin' about it. So good luck, and remember: you have to destroy the brain.