This week's caption battle is brought to you by Sunday Morning Work Shifts: remember, when you request a day off, you're making someone else very, very unhappy!
But first, last week's winners:
In third place with his love of Discovery Channel: TimeChaser!
On the next episode of MythBusters: Can you cut an Inuyasha in half with a sword?

BUSTED!
In second place, dry like a fine martini: schultzie!
See what happens when guys play swords, one of them goes home disappointed.
And in the coveted first place, with a clever reinterpretation as well as how I often value snap more than most other factors... xfishyx!
Fangirls come in all shapes and forms.
Also, Grayfire gets a special mention for knowing what the hell I was talking about last week. Awesome. Now time is moving along and I wanna sleep, so let's continue...
This week's screencap comes courtesy of Keen Havoc and features the series Battletoads: The Anime. The characters are, from left to right, Nina, Panthro, and Wilykat. Go for it: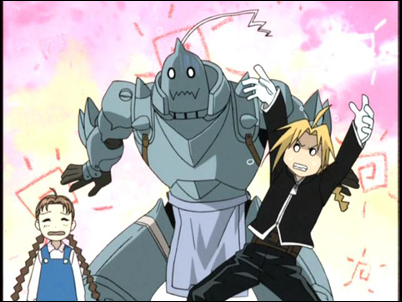 You know the drill: type up the funniest, wittiest, most original caption you can think of for the screencap above in the comments below. Also, if any of you would like some tips on writing a great caption, you can find those here.
And like always, theOtaku is open to all submissions and suggestions for weekly feature content. You have a screencap you want used, you can PM me and we can do somethin' about it. So good luck, and remember: bears are arctic, penguins are antarctic.