Merry Christmas, everyone here at theOtaku.com! I think we need to kick things off strong... though naturally, I'm not going to be the one to supply that. Meh, whatever... everyone, this is my gift to you! (SG)
* * * * * * * * * *
'Twas the night before Christmas, and down at theO,
The mass of otakuites were safe from the snow;
The cold winter wind was a'roaring with fury,
Though several were safe behind artbooks of yuri.
When Adam the Founder came up with promotions,
A holiday sleepover stirred rhythmic emotions;
It seemed such a grand plan would end in success,
As members and family came in their night dress.
The staff rolled out foamies for kids as they came,
And Adam himself called each member by name;
Aaryanna to ZeelZy, all came up in turn,
And got a sweet swag bag with credits to burn.
Some used their tokens on Pocky and Pez,
While others watched fansubs with Shiggy and Des;
Other unnamed girls had gone dansu-dansu,
As Beth and the mods made them pull up their pantsu.
True to his style, SomeGuy pointed and smirked,
'Til he got into [excrement] and they made sure he worked;
Kei had been cleaning up all of his messes,
(He "felt really bad," Someguy later confesses.)
The party went on 'til eleven-oh-five,
Though many the members were still quite alive;
They called it a triumph, and made a note here,
As satisfied understates filled up their ears.
But schedules were made to keep business on track,
So Adam proclaimed through the hall, "hit the sack!"
The older ones listened, the younger ones too,
But some in the middle found new things to do.
They all started shouting and charged 'cross the ground,
Acting on dares to flip birds all around;
A couple quick girlfriends were fast dumped for others,
And as drama ensued, the mods nearly called mothers.
When all hope seemed lost, Adam heard such a roar,
Like Vernier thrusters up 'gainst the door;
The staff flash-stepped out to to the windows to see,
Their dear reinforcements… oh who could it be?!
Up high in his cockpit, a well known red coat,
And bushy white whiskers adorned his pink throat;
"It's Santa!" they cheered from the window sealed shut,
"And damn, it appears that he's here to kick butt!"
The troublesome children froze fastly in fear,
As Saint Nicholas piloted steadily near;
They stopped all their trolling and halted their spam…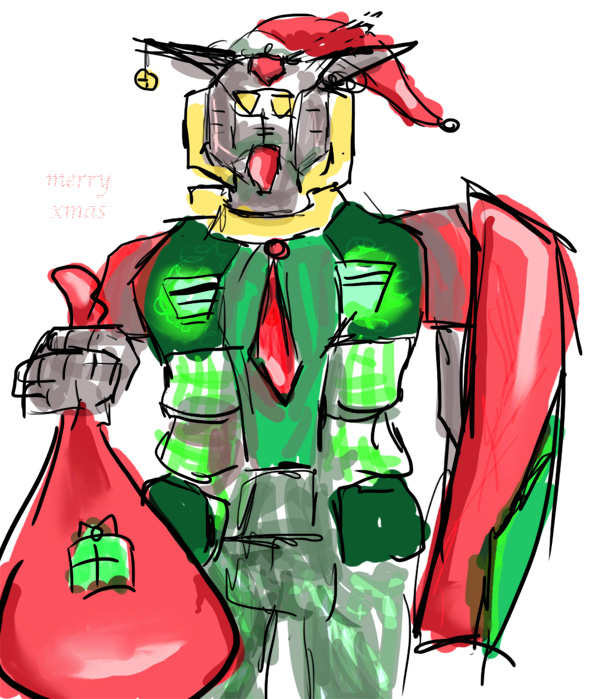 (Image courtesy of MewMew.)
…Santa was driving a freakin' Gundam!
He burst through the door to a violent clamour,
Swinging his powerful Laser-Banhammer(TM);
St. Nick knocked the trolls and the troubles away,
(Though later some members would wish they could stay.)
As the snow settled all quiet and glorious,
Santa took off on his thrusters victorious;
The good peaceful members, euphoric were all,
Though Santa had left a big hole in the wall.
The Gundam flew up with a proud "ho-ho-ho",
And that's the point Gail saw the wall clock's green glow;
Five after midnight, it was Christmas day,
And staff and otakuites cheered "hip-hooray!"
As carols were sung near the tunnel of wind,
Adam the Founder just stood there and grinned;
"There was room to improve, the tradition could blossom,
But all things thus said, the sleepover was awesome!"
Though Gundams and members now rarely did meet,
The sleepover was a new annual treat;
Otakuites over from Blythe to Artois,
Could now join together and shout out "Yatta!"
And Gundam-borne Santa, well he's still around,
Ready to strike down bad members abound…
…But when things are good, he will proudly exclaim:
"Meri Kurisumasu, all… AND GO AND FACE YOUR DESTINY! ADAM!"
-The End.
* * * * * * * * * *
(This year required a little more creativity from me. I owed that much, at least.)