With a huge grin on his face and reindeer antlers on his head, Naruto walked through the cold, greatly enjoying the holiday season. The village was decorated with twinkling lights and recently made snowmen, the air slightly scented with nutmeg and cinnamon, the blonde Hokage couldn't get enough. Christmas was by far his favourite holiday... next to Halloween, of course.
He trekked down empty streets, watching families hurry into their warm homes from the cold, and feeling a little... lonely. He usually did around that time of year. He was used to it. But that never stopped him from having a good time. He would grab the spray paint and gave the Hokage's faces a bit of holiday cheer.
When he finally came to his apartment building and was about ready to jump to his floor, he suddenly stopped. He was feeling a little down. But he knew one thing that never failed to lift his spirits.
He turned around and rushed through the village until he came to a dark and dreary apartment wherein an even dark and drearier shinobi lived. Without really thinking he kicked in the door and grabbed that dark shinobi's hand and dragged him through the village.
"N-Naruto! What're you-" He yelled out.
"WE'RE GETTING FESTIVE. I'M WEARING MY CHRISTMAS BOXERS AND MY APARTMENT ISN'T NEARLY DECORATED ENOUGH. TIME TO GET IN THE SPIRIT, SASUKE!"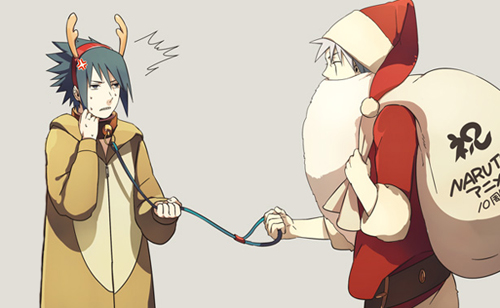 ---
That was fun.