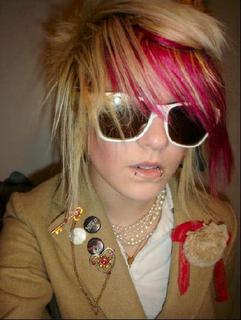 About Me:
I am male. Hence the name, MaleRagDoll.
I am gay and I dress like a girl. And despite the fact that Ive "phsyically mingled" with women I've overall found them clingy and unsatisfying. Besides I lack the drive and experience(or lackthereof) of a pseudo straight, sexless, and well-parented child.
I am generally pleasant but deep down my nature is cynical and analyzing. I could know just about everything about you already. I dont mean to patronize however.
I am no tree hugger and I eat meat. I also am totally for animal testing. I must be horribly evil too.
I dont just like Anime. I like other cartoons and shows as well. My favorite anime and manga are Jisatsu Circle, Elfen Lied, Loveless, and Higurashi no Naku Koro Ni. I know, I'm disturbed.
I have depression, anxiety, bipolar disorder, and schizophernia.
Read my MyOtaku profile for more.....that is....if you dare.