wwwww
wwww
W E L C O M E
These are some sketches I've done when I was practicing with watercolor pencils :). Well, I need a tutorial as you can see.
Feel free to show me your stuff! I'd like to see different styles and learn from them!
Hii!! Today I'm uploading my first drawing in years and I know it's not the best but I have 2 weeks of vacations!! and I'll do more, well not only that.. I need to finish some others

Meanwhile, meet The big four, my new fandom! :D and they are..
Merida from Brave is Summer
Hiccup from How to train your dragon (HTTYD) is Autumn
Jack Frost from The rise of the guardians (ROTG) is Winter
Rapunzel from Tangled is Spring
Picture is from Deviantart. Don't remember the user.
They're so epic.. I know
My drawing of Merida :3
Sketches...
Hello everyone, once again I feel sorry for my long absence, things went not so good for me these years but now Im here now at university and with apparently much free time hehe but the truth is I have to learn lessons in a high level that what I was used to.
So if you think I didnt draw anything during this time you are completely wrooong n_n Certainly trying to concentrate in something makes you daydream and get sooo distracted... Yeah i had lots of ideas I have in my super block and personal laptop. So bad right now my scanner is not here.
Here you have some of them...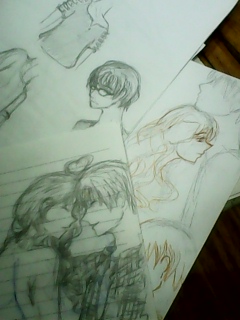 u