~Future of Studio Ghibli~
Ghibli will always stay in our hearts in our memories. Time will come when this studio will transfer to someone other than Hayao and Isao. Time will come for that, but it already builds it's future. Goro Miyazaki is already on the set and next to him there are some others and even some new, all set to become great anime movie directors one day. It is only up to us to always support them and watch their work!
Do you ask yourself which ones to watch first? There is no order, each of them you can watch separately. You can start with the first ones and make your way to the last ones, or first the masterworks of Hayao Miyazaki, then Isao Takahata and other directors, or just pick the most viewed ones or the ones that you will find interesting by just looking at cover.
There is no order and all of them share a special place in their history.
If you go to Japan everyone will know for them. They treasure these movies that much that they are the most watched there from all the other ones, even non-anime ones.
If you go to USA you can see how it grows in popularity and in Europe how it already managed to secure it's place and future. Asia, Africa, America, they all also slowly grow in knowing them as anime itself is gaining popularity.
Studio Ghibli is a jewel that will always remain in our heart and memory...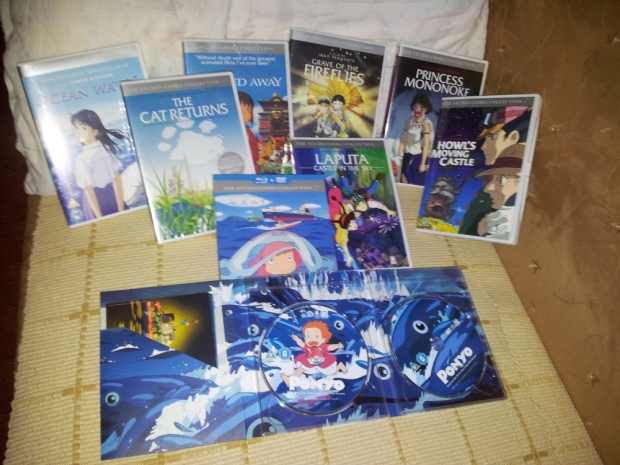 My for now Studio Ghibli collection. I still have lots to pick and they way I pick them... I draw the names out of my hat, for serious.
~The end~