~Studio Ghibli, New era~
21st century will mark a new age for Ghibli. It will be the one that will move them closer to the Western audience and that will make the world famous.
In year 2001. the most known and the prized anime movie has come out. The name is, Spirited Away.
This anime takes the story of a little girl who comes to a magic town and place surrounded by her own destiny and her own wishes. This anime is not only fun to watch, but it also wakes the most inner emotions inside you. Memories too. Even if all the Studio Ghibli movies to that, this one does it the best~!
From the animations, to the soundtrack. From the story to presentation, everything is done in the most excellent way. This anime moved the bounder of many cinemas in the world, from Europe to America. It will be always remembered~!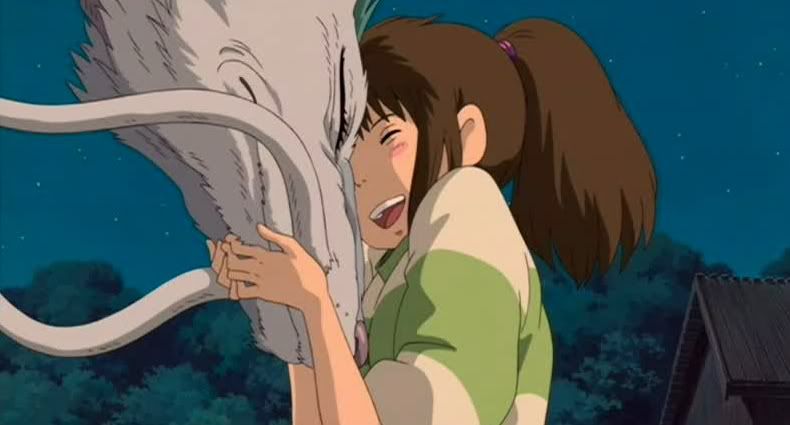 After that a whole history and point of looking at anime was changed. Soon Spirited away was followed by two another great movies, The cat returns (2002) and Howl's moving castle (2004).
But then a tragedy struck. Possibly the worst Ghibli movie made a debut. Hayao Miyazaki put the directing of the next movie in the hands of his son, Goro Miyazaki and the movie was Tales of Earthsea (2006). But he was too ambitious. And the end the product was not very well received by the critics, but it still sold pretty well. It was for a long time the top one watched movie in Japan. The worst by now, maybe.. But maybe not, many will find this one quite special and interesting as well. Different take and not so bad one. This will result in learning from the mistakes and making even better movies from Goro in the future.
All this lead to another movie from Hayao Miyazaki himself and this one again became something incredible! The most watched Ghibli movie in Western theaters by now, Ponyo (2008) put the roots to what will be the sole future for the future movies.
Last two movies that came out, The secret world of Arrietty (2010) which was directed by Hiromasa Yonebayashi and From up on Poppy Hill (2011) which was directed by Goro Miyazaki again. In this one Goro showed that he can look up to his father steps and cleared all mistakes done in the last movie. This one is a truly masterpiece...
~ Last page: Studio Ghibli's future and conclusion