~Page 3, Studio Ghibli takes on~
It was only after the Nausicaa that the Studio Ghibli was formed and it was only after that when it became known in the whole world.
Next we are going to look at some of most known classic in anime history. After Nausicaa the first anime to follow was Laputa: Castle in the sky (1986)~!
Set in the magical world and followed by a fantasy tale of love and friendship, this anime stunned the audience with the never seen before animations and soundtrack. It was a masterwork that lives to even today! Not the best Studio Ghibli movie, but the best one to start with the ongoing tradition.
This movies was followed by an interesting phase. Studio Ghibli actually released two of the movies at the same time in 1988 and these two movies were My Neighbor Totoro and Grave of fireflies each directed by different owners (first one by Hayao and second one by Isao).
In the cinemas first one to be shown was the Grave of the fireflies because of it's sad, heartbreaking and realistic view of a brother and sister trying to survive the last year of WW2 in Japan and what honor can bring to someone and what true meaning of life is..
To cheer up the audience, after this movie My Neighbor Totoro was played because it is just so cheerful, random and silly and it is because of Totoro that it became the symbol of Studio Ghibli.
After these, there were two Studio Ghibli movies that weren't well portrayed and taken and those were Only Yesterday and Ocean Waves (this one being directed by Tomomi Mochizuki). Even so they are not well known but hold a great aspect and story as well as the part of the Ghibli history, especially Only yesterday because it might take your memories back to your youth and make you to find the true meaning of life.
The one that followed after the duo-release was "Kiki's delivery service" (1989). This one was even regarding as one of the best at that time. You can have mixed feelings with this one, but it will definitely leave one join inside you as you watch it.
Trivia: After this movie, every Studio Ghibli movie was released on July except for Howl's moving castle.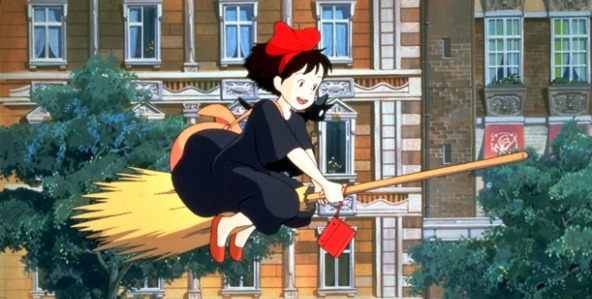 Two movies that followed after this Porco Rosso and Pom Poko were an interesting bunch. They tell a tale about courage and about will to go and make your dreams or just to fight for it until the end. They were released in 1992 and 1994. Interesting fact is that they feature animal characters with metaphoric human features to describe them.
In 1995 Whisper of the Heart was released which was another amazing and magically placed story that remains in everyone's heart and memory. (This one was directed by Yoshifumi Kondō who died shortly after, may he rest in peace)
It was only two years later that Princess Mononoke was released. And this one was the revolution like the Nausicaa was before that. This one changed the look of these movies in the world and today many consider it to be truthfully one of the best that they made.
Princess Mononoke is a romantic, adventures and a tale with a deep message inside of it. It is like the very speech of the nature and the very speech of the life around us. Even if released later, this one still holds the style of being classic combined with new improved style of graphic rendering and an amazing score of music.
The last movie to be release in 20th century and in year 1999 was My Neighbors the Yamadas. This one has received the second most lowest ratings (but still far above Tales of the Earthsea). It was just a family loving tale full of randomness. This one also had a very specific style of graphics and animations.
~ Next page: Studio Ghibli New Era