Hakuna Matata- A Swahili phrase that is literally translated as "There are no worries". It is sometimes translated as "No worries", although is more commonly used like the American phrase "No problem"
Here I made a brand-new, straight out of the box, still shiny to your heart's desire
WORLD!
In this WORLD, it is your mission to have as MUCH FUN POSSIBLE while you can… if you have had a rough day, and need some ~soul healing~ come here…this world will be full of fun, interesting anime related goodies for you and your fellow otaku pals.
be kind and post as you like, but please…keep away from yaoi/yuri/ect. AS MUCH AS POSSIBLE! >///< and also please be respectful to the views of others.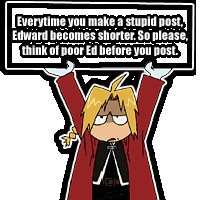 Have a wonderful day, and always remember,
When times get crazy,
HAKUNA MATATA! >///<
people who are allowed to post here are
Amestar
artgrrl
babygurl24
greenLeAfe
iamthebeatles
inufluffy12
KittyPerson9001
Lei Chan
lovevampire
Hanaro Souhi
Hiyokoriin
mada hope97
MangaKid
mewnicole
MusicalHouse
Nino Umaka
NeKo Moonshine
Natsuki Lotus
NadjaWolf
Pretzels
that fro kid
yumei hearts u
(If you don't want to be a guest poster; jst let me know so I can remove you! but please, give it a try first! :D ~sammi)