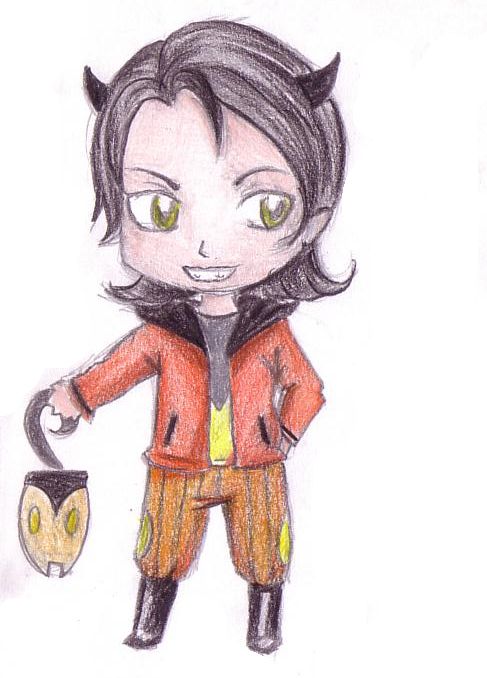 Name: 
Pradosh O'Narzhan
Pokemon: Pumpkaboo
National #: 710
Title: Pumpkin Pokemon
Type of Pokemon: Ghost/Grass
Nicknames:
 Pra, Prady
Gender: 
Male
Age: 
17
Birthday: 
October, 31st
Birthstone: Opal
Sign: Scorpio
Nature: Jolly, he's always happy and loves to help other by guiding them to places. He loves games and jokes, and it's really hard to make him angry or sad; his happy smile is what makes all his friends feel better!
Held Items:
 Lantern
Ability:
 Pickup, Frisk, Insomnia
Attacks: Trick-or-Treat, Razor leaf, Leech Seed, Shadow Ball, Pain Split, Seed Bomb, Toxic, Psychic, Flamethrower, Sludge Bomb, Energy ball, Will-o-Wisp, Dark Pulse.
Weak Against:
 Flying, Ghost, Fire, Ice, Dark (immune to Normal and Fighting)
Height:
 1,60 m
Weight:
 59 kg
Hair Color:
 Black
Hair Length:
 to the shoulder
Eye Color:
 Yellow
Skin Tone:
 Sunkissed Pink (a Tanned tone)
Build: 
a bit skinny
Markings/Scars: 
/
Tattoos: 
a pair of black wings on his back
Piercings:
 /
Appearance: He wears clothes whose size is a bit bigger than his, and has little devil horns on the sides of his head. A smile is always on his face and he's always carrying a lantern with him.
Full Outfit: (see picture)
Personality: 
Happy and beaming, he loves to help others by guiding them across forests and cities. The light of his lantern gleams more when he's excited, and he likes a lot staring at it. The sunlight makes him a bit pouty, but nothing like that can make the smile disappear! He doesn't like fighting a lot, but if he has to, he'll do it. Stories are his passion, and the first thing he'll ask to new friends is if they have stories to tell him.
Orientation:
 as long as there is love, anything is fine for him!
Significant Other: /
Rival:
 /
Family: 
Mother and father, living in the Lost Hotel
Relationships: He's well known in a brethren of other Pumpkaboo and Gourgeist, but outside of it he's a stranger to most.
Hometown:
 Lost Hotel, near Dendemille Town (Kalos)
Job: Guide and Storyteller
Song Name: All Star
Song Artist: Smash Mouth
********************
Likes: 
Guiding, stories, friends, making others happy, looking at his lantern and doing tricks with it.
Dislikes:
 Sunlight, people who think of him as a stupid boy, whenever he's told he's not a good guide.
Fears:
 Losing his lantern and being alone.
Strengths:
 Lighting the night, bringing happiness around and sound creepy.
Weaknesses: 
Fighting for a long time.
Battle Style: He tends not to fight, but when he has to, he can use his lantern for various moves, such as Flamethrower or Will-o-Wisp. If someone tries to take his lantern away he will enter a berserk mode in which he attacks to kill, and will probably sing and laugh while doing it.
********************
Favorite-
Food:
 Roasted Chestnuts
Drink: Red orange juice
Color: Yellow
Flower:
 Lily of the Valley
Tree:
 Purple-leaf sand cherry
Season:
 Fall
Activity:
 Singing, walking around and travelling.
********************
Background: Pradosh has been born in Lost hotel, and has always lived there. Since when he was a little boy, he loved to wander around during nighttime, to discover new things. Every new night, he wandered farther and farther, until one day he got lost and found himself in Snowbelle City, where he met people who told him about powerful legendaries, fantastic stories and mysterious characters. Amazed by his "discover" , as soon as he got back home, he started searching for maps and legends, to write them down and let other people be amazed as he was, and that's why he always carry around papers and empty books, to fill them with detailed maps, stories and legends.
With age came also responsibility, and as his clan commanded, he started guiding souls to the otherworld, and even when he did so, it was with a smile.
"No one should leave this world by the side of a frowning person. A smile can pierce through everything and everyone!"
During his free time, he loves going to villages and cities, and listen to all the people and what they do. He likes to impersonate the evil character that scare bad children at night, then put everyone in their place~