Blade of the immortal anime review
Now I think that this one will be short. And that is because this is more like a first impression than the real review. I still haven't finished the anime, even though it has now only 13 episodes. And now here is funny thing. 13 episodes of anime compared to 26 volumes of manga. And they aren't making currently any more episodes. Why is that? Well just read to the end to see...
The anime is actually quite boring, at least at the beginning. While the manga actually keeps in that where it has its limits, the anime actually doesn't. Confusing, well let me explain it better. The moments where there should be some sad scene in the anime, are made like you can just stare at them with this face -_-. And that is because of the low made soundtrack and not used when needed and too not enough expression nor the words of the characters. Example when the sister of the main character dies in the beginning. In the manga it is actually sad where you see when they wanted to first rape her and then they just brutally murdered her. After that Manji looks really sad and says farewell to his sis and kills every one of the without mercy. In the anime, it is quite different and it is more like a joke what they do to her. It is still made sad and emotional, but not in the way like they should.
And animations and drawings of the anime are worse than that of the manga. They characters actully looks like they are taken from there, meaning that they almost don't move or anything. The animations are slow and sometimes none and the colors look not so good too. But overall, they were not that bad, but after so many animes, it will not impress you.
And now to tell something interesting. The manga is actually rated teen (14+), while the anime is actually mature (18+). Now here is the thing, anime actually has less gore and violence and that language and everything than the manga. I know, the irony. And that is why more episodes haven't been made. Almost no one knows for this anime. Maybe manga, but anime... Not actually.
So that was it. If you really want to try anime, go for it. But I give advice that if you are interested in this series, I would suggest that you take the manga. It is much better.
Animations and drawings: 6.5/10- Drawings are okay. The animations not so.
Story: 7.5/10- Same as with manga, just that here it can get more confusing.
OST and effects: 6.5/10- These ones were bad. Maybe it gets better later, but I doubt it.
Entertainment: 7/10- anime is boring, stich with the manga.
Overall: 6.5/10- My first impression and it is already bad. I am sorry for that, but I hope that it gets better.

Not so bad when you look at it, but also not so good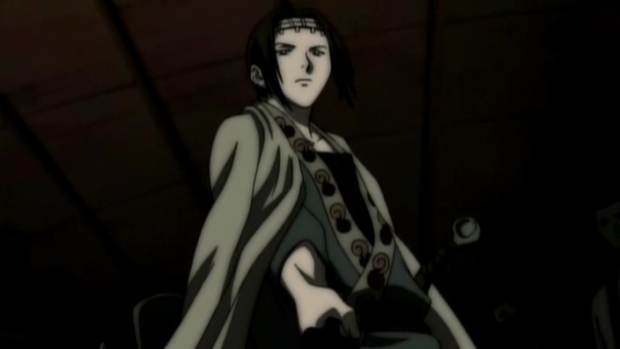 I actually had to take my own screenshot, because it is hard to find a one of the anime on internet. This is the main villain.