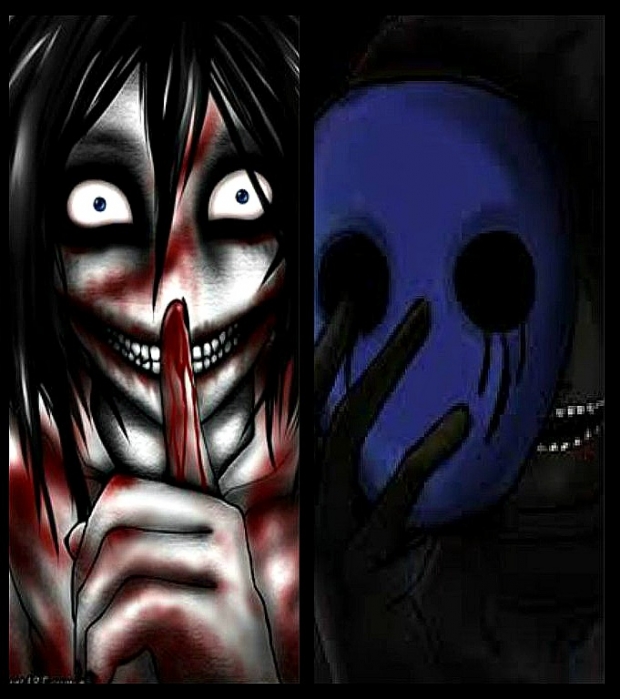 Chapter 1 Trick
****WARNING**** This story will contain violence, blood and gore. I have tried to stay as much as possible to the characters personalities, so there will be madness and blood. So, if you are bothered by them, it would be good not to read it, sorry ^^' Hope you like it! Ps. you are you and you are 17, your name will appear with '____'
~ ~ ~ ~ ~ ~ ~ ~ ~ ~ ~ ~ ~ ~ ~ ~ ~ ~ ~ ~ ~ ~ ~ ~ ~ ~ ~ ~ ~ ~ ~ ~ ~ ~ ~ ~ ~ ~ ~ ~ ~ ~
A family is a risky venture, because the greater the love, the greater the loss...
~Brad Pitt
"Some are born mad, some achieve madness, and some have madness thrust upon 'em."
― Emilie Autumn, The Asylum for Wayward Victorian Girls
Love cannot be found where it doesn't exist. Nor can it be hidden where it truly does
The voice of the singer pounded loudly on your ears. His voice was so heavenly, that you couldn't help but feel goosebumps go down your spine as you walked out of the convenience store, carrying two bags full of sweets and treats that your mother had asked you to bring. It was just another Halloween and you had to bring the supplies back, before the sun went down.
You walked towards the direction of your house, happily singing the lyrics to the song, not bothering with all the stares that you got along the way from the various strangers that passed by you. So what if you were bad at singing? You had the right to express your heart to its full content! Still, even they had to admit that Lost it All by Black Veil Brides was the most emotion-heavy song that you've heard in a really long time. You smiled to yourself. You had just left the house of your best friend, after she had invited you over to arrange the plans for tonight. She and your other classmates were going out on a treat-hunt. They had been making their costumes for over a month now, with the preparations being hectic in order to meet the deadline. But unfortunately, you had to turn their offer down on the very last minute, as your mother had made you take your little sister Cady out for trick-or-treat after ten o'clock. You weren't so happy about it, since you had already planned out your costume, a beautiful witch outfit, and you had already made plans. Still, you loved your sister too much to let her down on her very first Halloween.
Thus, it couldn't be helped.
You took a shortcut on the local park that lead exactly across your house. The sun had already begun to set, so it was rather empty, with only s bunch of guys leaning against some trees near the small pont. You sighed wearily to yourself and began to walk on the soft grass. You had bought an amazing little witch outfit for your sister, so that you would be a match when you would go out. She was so proud and happy about her outfit, she made you dress her up every single day so that you could pretend that you were both witches. You would use the brooms around the house to pretend you were flying them and play with the oven, as if you were making potions. Usually, your mother would chase you out, yelling that you two had smashed her kitchen. You laughed to yourself. You had to admit that although you were seventeen, a nearly full grown woman, you enjoyed to the fullest playing with your sister. The big age difference between you made it even greater for the gap to be filled.
'Hey gorgeous.' You heard a voice say, interrupting your thoughts and being heard over the sound of the now low song.
Looking to your right, you immediately located the bunch of guys you had seen before. They were leisurely sitting on the grass, all eyes on you, drinking beers and talking. As you walked by, the seemingly leader noticed your presence. All six of them were around the same age, around 25-28, and were exactly the type of guys that smelled trouble for a million miles away. The one that talked to you first had a large, stupid grin on his face, looking you up and down. You closed the music on your IPod immediately, but made no comment and continued your way. Still, they wouldn't let you slide that easily.
'Where 're ya goin?' he continued, his interest undiminished.
Again, he got no response from you. You plainly ignored them and continued down your path at suddenly became a little bit more dark than it was before. You shook away the uneasiness that begun to slowly creep inside your heart, but then you heard loud laughs. Turning, your blood froze and if you didn't have strong will, you would have frozen in place. The guys had stood up and were now literally some feet away from you, following you down the path, wolf-whistling to you and making comments about your appearance that weren't gentleman-like. You quickened your step, trying desperately to avoid them, but it was no use. When you took a turn around the pathway, they snatched the opportunity and surrounded you. You stopped immediately, looking carefully around you for openings.
'Ya know, it's nat polite to ignore.' The leader said with a large grin and took a step closer to you.
You took a step back 'I respond only to those worth it.'
'Well, that's bad cause we kinda like you over here, isn't that right guys?' he asked the others, who laughed loudly.
'I don't care. Now if you would excuse me.' You said and tried to pass by him, only to have your way blocked.
You glared at the leader. His previous smile was long gone and his face was deadly serious.
'You're not going anywhere.' He exclaimed.
You sighed loudly. Well, if they won't give you an escape opening, you'll make one yourself.
'You wanna do this de hard or the easy way darlin'?' the leader said.
You let the shopping bags down and with precise and careful movements, you pulled your sleeves up, just around your elbows. Seeing you preparing to fight, the all laughed loudly. What they didn't know, was that your father had made sure that you would be perfectly able to defend yourself if situations called for it.
'You seriously believe you can fight us all?' said another.
'Try me.' You suggested with a sly smile.
And so they tried. All six of them came against you to bring you down. But you knew better. They were just regular people you had only fought on the streets, so it was pretty easy to beat them down into pulp. Okay, maybe you didn't beat them that hard, but still, when you were done with them, two of them were unconscious and the other tried to gather their beat up pieces. You, without a single scratch, pulled yourself together, picked up your untouched bags and continued down the way without a single glance behind you.
Reaching your house, you found the small yard decorated with various coffins, spider webs, tombstones and creepy bats hanging from every possible corner. Zombie hands were protruding from some of the tombstones, while a huge cauldron was placed under the only tree in the yard. This time, your parents had done their best.
Reaching the door, you opened it and passed to the hall.
'I'm home!' you announced as soon as you closed the door behind you.
'Hey honey.' Your mother responded on your left, were the kitchen was. Your father was reading the newspaper, sitting on the living room on your right.
'_____ is home!' a seven-year-old girl exclaimed and ran down the stairs a few meters away from you.
'Cady!' you smiled and opened your arms, leaving the bags down. The little girl ran straight into your open arms, throwing her small hands over your neck, hugging you with all the strength a seven-year-old could have. You smiled even wider and picked her up in your arms, giving her a kiss on the top of her head.
'Hey sweetie, I see you're already ready!' you laughed, picking up the bags and carrying them to your mom.
Cady beamed in delight 'Yeah, mommy helped me put it on. How do I look?' she asked happily, while you made your way up the stairs, towards your room to get ready.
'You look amazing sweetie. If more is possible.' You said and hugged her tenderly. She looked like a mini you, with eyes exactly matching your (e/c) own. You had these characteristics from your mother, while your (h/c) hair were from your father's side.
'_____ why are you always wearing this cross?' Cady asked you while you were getting ready in your room.
You looked down on your neck, to see your favorite black cross with the imprinted prayer on it and the silver cross around it.
'Grandpa left it to me sweetie. I like it so much, I wear it all the time, since he gave it to me.' You replied honestly.
She pouted 'I miss grandpa.' She stated.
You messed her hair as you put your ballerina shoes on 'I know hun, I know.'
Taking her by the hand, you led her down on the living room once again. The moment you went down the stairs, the doorbell rang signaling the start of the trick-or-treat. You father opened the door, dressed in a full-vampire attire, smiling and speaking loudly with the small children that waited for their sweets.
And time passed as if someone set the clocks to go faster. Before you even knew it, the considerable amount of sweets had diminished considerably and the time to go out with Cady was slowly coming towards you. When the time came, you sat the child on the table, helping her put on her shoes, as the doorbell rang once more.
'Are you ready sweetie to go out?' you smiled kindly to her.
'Yes!! I can't wait! You're the best ____' she clapped her hands together.
You laughed and gave her a kiss on the forehead. Doing so, your eye was caught by your father that went to open the door. He grabbed the bowl of sweets and cordially opened the door.
A silver flash shined for a single second.
Your fathers eyes opened wide with surprise, as he took a step backwards, bowl smashing on the floor, soon followed by your own father, as he grabbed his neck surprised, his fingers staining with blood.
To your utter horror, before you could even react, the guys from before came in the house.
'Trick or treat?' the leader smiled, his eyes pinning on you.
~ ~ ~ ~ ~ ~ ~ ~ ~ ~ ~ ~ ~ ~ ~ ~ ~ ~ ~ ~ ~ ~ ~ ~ ~ ~ ~ ~ ~ ~ ~ ~ ~ ~ ~ ~ ~ ~ ~ ~ ~ ~ ~
There is always some madness in love. But there is always some reason in madness
~ Friedrich Nietzsche