Note: So many updates today XD I want to thank you all for taking time and reading my stories. I know, I'm not so active as I used to be, but I find theO a happy place to be, full of my dear friends :D Thank you <3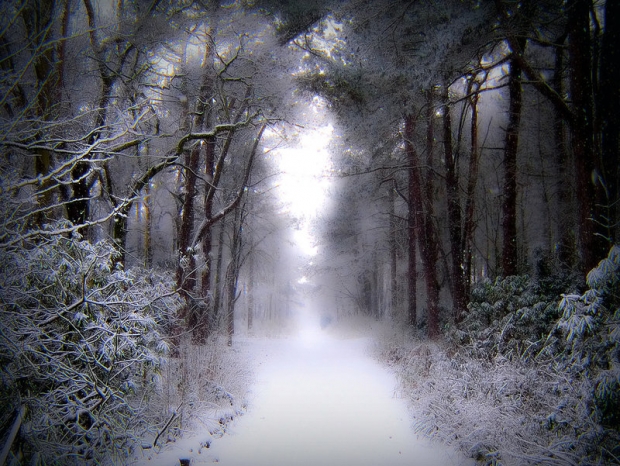 Chapter 4 Into The Woods
~One Month After~
In the Slender Mansion
Masky, Toby and Ben were watching TV, sitting on the comfortable but worn out sofa in their usual living room inside the Slender Mansion. Ben had the controller in his possession, after a fierce fight with the other two, with many broken bones and cuts and bruises. Still, their excitement over who would have the remote control was soon turned into utter boredom, as the TV had absolutely no interesting things to see. Ben was murmuring how this was a total waste of time and that he could be playing videogames. Masky was half asleep, his head leaning against the soft back of the sofa and Toby was complaining openly on how he could have found a better show. All teenagers were bored beyond belief.
Next to them, a few steps away, just in front of the window and sitting on his usual armchair, Jeff was looking out the window. His face had a huge smile as always but his mind was absent while he mindlessly played with his favorite knife, twisting it between his fingers. His gaze was lost between the dark trees that surrounded the outer space of the yard, that was now covered with a thick layer of snow. His mind was going back to his recent killing spree in a town nearby. Five victims were sliced in their sleep and the killer only left a message written in the victims' blood. Go to sleep. As he was remembering the kills, the blood that had stained the walls, the screams and pleads from the victims, he couldn't help but feel a strong euphoria go throughout his whole body. He wondered when the next killing spree would be, but Slenderman had ordered them not to do anything for the time being. This only pissed Jeff off.
But there was also someone else in the room.
Just beside the door, Eyeless Jack was leaning calmly against the wall, his hands crossed on his chest. He had just returned from his late night hunting spree and just needed some time to catch his breath. Under the blue mask, he was calmly watching the trio of the sofa talking to each other and changing the channels. Well, he didn't actually see but he was able to have sight through his mind. Ben settled for the News at that point and EJ thanked him mentally for choosing that, over the cooking show.
Then the reporter changed the subject and asked for the viewers to remove the children from the TVs. This only attracted the attention of all the five men in the room.
'I bet it's him again.' Ben exclaimed, making himself more comfortable on the sofa.
'Once again five more bodies were discovered early this morning on the streets of (your hometown). Among them there were two women, around the ages of 24 and 30. Just like the previous victims, they were found stabbed to death with fifty stabs each all around the torso area. The killer that has been roaming the town for at least a month now has left the same message behind, signing it with his name: Halloween.'
'Seems that you have a rival Jeffy.' Toby threw at Jeff mockingly.
'Shut the f*ck up Toby. And don't call me Jeffy.' Was the response Toby took, while the black-haired male was throwing menacing glances at the TV screen, as if the TV dared to challenge him.
'He's been out there for a month and no one has caught him. Maybe he's one of us?' EJ wondered to his fellow murder comrades.
'Eh, I don't think so.' Toby responded.
'If he is, I'm going to put him to sleep for f*cking daring to challenge me.' Jeff swung his knife.
'I am afraid that EJ is right children.' A haunting voice was heard and the owner of the house walked inside the living room. Almost immediately the temperature dropped a few degrees but none of the killers was able to notice.
'It appears that the killer going with the name Halloween might indeed be one of us. And for that reason, we must invite him here.' Slenderman announced.
'Are you f*cking with me? Don't you dare bring him here.' Jeff exclaimed loudly.
'We can't let him get caught if he's one of us.' Ben disagreed.
'Ben is right. We should bring him here and stop the mindless killings. Toby and EJ, I trust you to bring him here safe and sound.'
'Alright!' Toby yelled with excitement, while EJ only nodded in agreement. They were going to bring him in.
~ ~ ~ ~ ~ ~ ~ ~ ~ ~ ~ ~ ~ ~ ~ ~ ~ ~ ~ ~ ~ ~ ~ ~ ~ ~ ~ ~ ~ ~ ~ ~ ~ ~ ~ ~ ~ ~ ~
The sun was setting in the distant horizon, throwing its last rays of weak light into the thick snow that had covered everything. In the last week it just hadn't stopped snowing, not even for a single second, diving everything in a breathtaking white sheet. The town of (your hometown) was all dressed in white, preparing slowly but steadily for the upcoming heavy winter and Christmas. People were going up and down the streets, making their way hastily between each other, waving rushed hello's to their familiar faces and rushing to get home before the sun set for good and darkness made its way to the once busy streets. Under any other circumstances, no need for rushing would be mandatory, but this time was different. Because this time a dangerous and bloodthirsty murderer was at loose inside the city, hunting down people without a particular problem and rampaging around the town. No man who walked after darkness was safe, so everyone had agreed silently to seize any form of moving during the late night hours. In just a month, more than fifty people were found brutally murdered; all murders started from the murder of a whole family and the disappearance of their older daughter. So people were more than reluctant to go out at night.
You threw a last gaze towards your town, as you took your first step into the dark forest. The light was enough gone to hide your figure quite fast inside the darkness of the trees. Your clothes were full of blood while you were wearing no shoes. You walked weakly inside the forest, proceeding wearily and with heavy steps. This last month was crazy. The bloodlust was so powerful that every time you saw a human, you had to have their blood on your hands. And you enjoyed it. You enjoyed it to the fullest, letting yourself be driven away by the madness and for the first time, you let yourself act however he liked.
But in the end, you were tired.
For the past month you had been killing non-stop, which was good and satisfying, but you hadn't slept for a single minute. Yes, your body had changed tremendously. You could now hear, see, smell and feel things in an 800 meters radius. Your stamina and sharpness were heightened into an unimaginable level and you were much stronger than before. No matter how much your body would be hurt, it always healed in a matter of seconds, growing to be even stronger than before. Still, some human things had remained. For example, you were freezing to death. You still had your Halloween costume on but had lost the shoes in the way and there was no chance for you to be able to steal a new and decent pair from anywhere. Secondly, you were starving. After you killed your victims, you had taken a few sips from their blood, but after a month, hunger had begun to creep inside your mind. And lastly, you were SO tired. Sleep wasn't necessary at first, but slowly and steadily, your body started to get tired more easily and deteriorated tremendously. Your last victim almost got away due to this thing.
So, despite your insatiable blood thirst, you had to find a way to replenish yourself.
The town where you roamed these past days, was now searched thoroughly by the police, searching from inch to inch in order to locate you. But there was only one place where no one went. The forest. This was your last chance. So, with your knives carefully tucked in your witch belt behind your back, you proceeded inside the forest.
The scenery was really breathtaking, even without your enhanced sight. The trees were stripped from their leaves and everything was covered in white snow, which only came in contrast with the black tree trunks. The light was slowly taken away from the beautiful forest and soon, darkness had prevailed. As your vision was not so affected by the complete absence of light, you continued down the narrow path, deeper and deeper into the forest. Everything around you seemed endless. There was simply no end to the trees and the snow, as far as the eye could see. Soon, the bright full moon appeared through the clouds, setting its eerie silver glow to the scenery in front of you, giving everything a light silver tint. You walked and walked and walked, trying to found either an abandoned storage, or a cave deep enough for you to hide in. you didn't know just for how long your body would last, as the fatigue was growing stronger and stronger with the passing moments. You had to find shelter before you collapsed on spot.
You didn't know just for how long you were walking. It surely seemed like an eternity, an eternity of excruciating cold that turned your breath into crystals. You tried to keep your consciousness as far as you could.
'Well well well, what do we have here?' a voice was heard coming from behind you.
You turned immediately, coming face to face with a true monster. Its body was utterly black, with two large horns protruding from the sides of its head and a large tail behind him. He resembled you the demons you used to see on movies and read on books back when you were normal, as his eyes were utterly red, with slit-shaped pupils, but not quite as yours. There was no iris. He was standing a few meters away from you, as he had obviously come through the bushes. He was eyeing you carefully, as if he was surprised to see you there.
'Who are you?' you asked him, voice adamantly steady and hands reaching slowly for the knives.
In your question, he laughed 'My name is Zalgo. But you must already know that as you are a Creepypasta.'
'I don't know what you are talking about.' You said as you slowly begun to back away. You could feel it. There. In his aura. He was extremely strong. You couldn't go up against him. Not in your current state at least.
'Oh, I believe you know. But since you are alone and I resent all you little-weak monsters, I'm going to end you quickly.' He announced.
Before you were able to realize a thing, he was right behind you. Your knives smashed against his claws, barely protecting you, as he send you flying against the opposite tree. Your back hit the trunk heavily, but in the end you managed to fall on your feet. You charge against him, swinging the knife in his face, giving him a deep scar on his cheek. In response, he roamed and kicked you. You were unable to dodge it, so you fell on the tree again, with a huge gulp of blood coming out of your mouth. You curse loudly, as he charges against you. collecting all your remaining strength, you manage to tilt to the right on the right time, resulting him smashing on the tree. One of his horns is stuck on the tree, which gives you the opening you wanted.
You stand up and start running with all your strength on the open space in front of you.
Again, it doesn't take him long before he is right behind you, running quickly through the trees. For some moments you just ran between the trees. It is just like back then, when the thugs shoot you. You could see everything around you, but it looked like time had stopped as you ran inside the forest. And then, the first explosion sounded. A huge branch of a nearby tree fell against you. You jumped above it, making a turn in the air, avoiding it and continuing running. Looking behind you, you see the black monster throwing fire balls against you, but with your quick running and sharp senses you are able to avoid them for mere millimeters. It almost got you numerous times, but luck was on your side and you managed to escape them.
Then you see an opening in front of you.
It is just a clearing that leads to the open air. A cliff.
This is your chance.
You avoid another ball of fire, but as the debris of the trees fall, you grab them with both hands and turning, you throw it against him. Catching him by surprise, the tree trunk hits him straight in the face, making fall behind. That's it!
You focus and put all your strength to reach the cliff.
Twelve meters.
Ten.
Five.
Two.
Without thinking, you jump.
The cliff wasn't too big, just enough for the top of the trees to reach him, and enough to give you the edge. As you fall, you allow yourself a glance towards the forest. Your breath is cut by the fairytale that is laid out before you. Some bats fly in the distance. The moon shines above the sea of dark. And then a scream interrupts the silence. Turning your head, you see Zalgo standing on the edge of the cliff, his gaze pure madness. He fires another fire ball. You look straight in front of you. The ground is coming closer. You can avoid it and land perfectly. But then a loud scream leaves your mouth, as the fireball hits your left leg. You fail to maintain your balance and crashing on the branches of the nearby trees, filling your hands with scars, you fall on the ground heavily. You scream again, as you try to get up, before the man runs after you.
Your leg hurts like hell, but not running is not a choice. You get up, ignoring the pain and once again run.
You run.
And run.
And run.
The pain on your leg is excruciating, but you have to get away. To have to get away to recover. And once you recover, you're going to hunt that man down and make him wish he was never born. You'll paint the walls with his blood. Kill him slowly and painfully. You look at your clothes and an exclamation of anger escapes you. Due to the fall, your clothes are torn to pieces. The fabric that is left, is only capable of covering your chest. Your skirt is torn and now reaches just a few inches under your lower parts. Your legs are exposed, your stomach, your hands. But luckily, the belt and the knives are still there.
When you are sure that the man is no longer after you, you slow down your paste into a walk. You look around you to see that you have reached a whole other side of the forest. Here, the moonlight penetrates the trees and reaches all the way down to the ground. Your bare feet crunch the untouched snow under them, as you proceed, looking around you amazed.
You walk to a tree clearing. The sky can't be seen, but the trees create a small untouched circle. You close your eyes and inhale deeply.
And then you feel it.
A presence. Too close.
You open your eyes immediately and look towards the presence.
At first, you see only a dark shadow on your left, just behind the tree, hiding in the shadows. But when it notices you, it takes a step towards the moonlight. At first you immediately think it's the man from before, but you try to keep your calmness.
Still, you are taken aback inside your mind.
It wasn't the man from before.
Instead it is a rather tall teenager. He was taller than you, almost 6' 4'. He was wearing a black hoodie, with matching black pants and shoes. His face was covered by a royal blue mask, that had two large holes exactly where the eyes should be, with a strange, black substance dripping down from them. He didn't say a word upon seeing you, but started walking towards you.
You clench you jaw firmly, as you take out your knives.
He takes another step and takes out of his pocket a sharp scalpel.