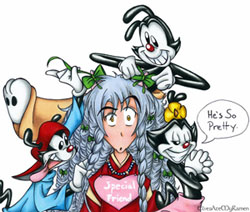 You can't stay young forever but you can be immature for the rest of your life.
Welcome to my mind. I'm an animal loving, bishie crazed, Dorito munching, ramen eating, elf obsessing, manga reading, fairy fluttering, anime watching, video game playing, lovable artist who tends to find humor in the most idiotic ways…comes from a childhood of nothing but Looney Tunes and Animaniacs.
I tend to bounce between here and my first love, MyOtaku
But I'm also on:
So please stop in, comment (I tend to always return the favor), subscribe to me and come back if you wish! I'm not as scary as I look.

And remember,