Hello everyone, and welcome to my world based on my fan-fiction "Deathnote: Resurrection". Enjoy!
2: Demon
Same day, 10: oo p.m.
"So, what do we do now?" asked Light, as he kicked back and relaxed on my couch.
L and I stayed seated on the floor and looked at each other blankly. Then we looked over at Light who was waiting for our reply.
"Well…?" Light spoke again. Little more sarcastic than last time. He was impatient, wanting to know what we were thinking right away.
"Well, I think its best before we go any further that, you both should know that I have a-a 'Death Note' as well as the 'Life Note'. I also have what your people, light call a Shinigami. But, in America we don't call them that. We call them demons of the realm of hell. They do still possess a 'Death Note', just like the ones in Japan. I think its best that you meet him, even though he says he could really care less if he meets you guys. You must excuse him sometimes though; he can be a real punk ass. Anyways here," I held out my Death Note so that L and Light could touch it. "Do you see him yet?"
L and Light looked up and their eyes gazed widely above me. The look on their faces signified that they saw him.
"Well…? Do you see him or not?" I asked again.
"Yeah, we do". L and Light spoke at the same time.
"Well then boys, I'd like you both to meet 'Sid', my personal friend and my protector from the nether world."
Their gaze was transfixed on the monster that stood very close to me. He was so close, that I could feel him breathing down my neck.
"Hello L, Light, Its very unfortunate to meet you both" Sid said in his deep dragon-like raspy voice. He laughed sinisterly.
L and Light didn't say a word, they just stood there. Practically petrified.
"I just want you guys to know, that unlike most Demons or "Shinigami" as you call us, I actually take a side. I'm with Z, all the way 'till she passes on." Said Sid. He gave out a loud hysterical snarl like laugh, and coughed loudly. "I also want you guys to know that I'm no ordinary demon. I used to be human"
"W-What?" Light said. His voice cracked. I knew he was frightened, and for me and L, that was a good thing.
I must always keep a close eye on Light; for if he made the wrong move, L's and mine cover could be blown. Then again, if he wants to be "a God" of the new world, he will have to do as I say and command. So, I shouldn't have to worry too much… or do I?
"Hmm…" L bit lightly on his thumb nail, and closely examined the monster. "So, Sid…"
"Hmm…?" The demon replied with a sinister grumble.
"You said you used to be human, is that correct?" L said back.
"Yes, that is correct, L".
"So, if you used to be human, who were you?" L said as he stepped closer to the creature, showing no sign of fear what so ever.
Light on the other hand, was shaking in his shoes. He never saw a monster this horrifying, which actually took sides with a human.
Sid laughed uncontrollably. "Well," he began to speak. "If you must know, I went by the name of 'Sid Vicious'. I was a musician, so to speak. I played a lousy bass in the band 'The Sex Pistols', a punk rock band back in the late 70's. Some called me a very violent and destructive person. I think they were right. I was also a major drug addict, and died later because of it."
"How interesting. So, how did you become a death god?" asked L as he came up closer to me and Sid.
"Glad you asked, L", Sid laughed hysterically again. " I made a deal with the devil, to give me a second chance at life. But he does not hold the power to grant me what my heart wished for, only God is in possession of that. So, he made me able to live again, but only for a price…"
"And what was the price that you had to pay?" Asked Light. Still terribly shaken by fear.
"I would have to serve Satan, forever. And my soul will never find rest or peace. I will keep on living in this form, writing names down to gain more life and send to Hell. There is no way out of it. As far as I know anyways." Sid spoke with a heavy heart then asked. "Do we have any apples?"
"Yes, I do. They're in the fridge. Help yourself." I looked over my shoulder and smiled at him.
"Good. Good. I'm craving them". Sid said with a laugh. He went into the fridge and grabbed some. Then he began to devour them, like how a python slowly swallows down its prey.
I yawned. "Well, I think it's time we all went to bed, so that tomorrow we can start our lives of Justice".
"Yeah, we probably should." Said Light.
"But where are we all to sleep?" Asked L.
"Well, my bed of course. Its king size, so it should workout just fine. Oh! And Light, you'll need these". I put a pair of handcuffs around his right wrist and around my left one. It had a long chain, so we both could move about freely.
"Awe Man, not again! Why?!" Light asked.
"Because, I don't completely trust you. That's why. Deal with it." I laughed at him, mocking and teasing him, just a little.
"Fine. Let's go." Said L. He didn't like the idea of us all sleeping together.
"No need to worry L, If Light tries anything Sid will have to kill him with his notebook". I said sadistically.
"Eh, don't worry, I won't do anything. I don't want to die again". Light was still frightened.
"Good! Now let's go to bed." I said cheerfully.
We all headed to my room, and all got on my bed. I was in the middle; L was on my right and with Light on my left. Sid sat in my bedroom chair like he always did every night. His glowing red eyes eliminated the room a little. Light fell fast asleep, and was snoring annoyingly. L lay on his back with his hands behind his head. He stared up at the ceiling and breathed shallowly. It was hard for me to fall asleep; the reason being, it was kind of cold in my room. Of course it was, being in the month of January.
I was slightly shivering, but I guess I was making enough movement for L to notice.
"… Cold?" he asked me.
"Mhm…" I replied with a shiver down my spine.
"Come here, I'm quite warm". L signaled me to put my head on his chest, and curl up next to him.
I did what he wanted, and became warm. I then, fell fast asleep.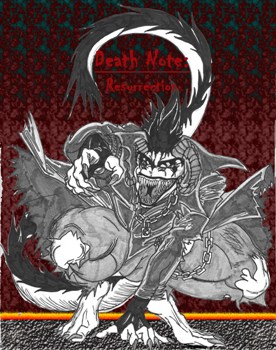 1: Rebirth
Monday, January 10th 2014. 9:19 p.m.
"Tonight is the night", I thought to myself as I drove home from the Everett Court House in WA State. I took the freeway home too my Kirkland apartment and listened to "107.7 TheEnd" on the road. It took longer than I expected to get home this time, the traffic on the way back was terrible. Stop and go, all the way on the freeway. Finally, I got to the exit that took me home, and turned right on the freeway turn off. It took me about ten minutes to get home from the exit, since I lived sort of in the suburbs of Kirkland. The time was now 8:00 p.m., and I had to be home by 8:15 so I could get everything I need, set up.
I finally got home, with five minutes to spare. I locked the door behind me; shut all the windows and the blinds with the curtains. Then I unplugged my phone line and took the computer connection out of the wall, and blocked all connection to the electricity. I opened up my closet and took out Light's and Lawliet's bodies. I dragged them into the living room and set them down next to each other. I then went into my room and grabbed my Death Note, Life Note, and my black robe that has a hood that can cover my face. I put it on and pulled the hood over my head and made sure that my long, wavy, bright blonde hair was out of the way and not showing. I sat down in front of them and began to write L. Lawliet in the life note when a voice behind me said, "Are you sure you want to do that?" I turned around to see my "Shinigami" hovering over my shoulder.
"What do you mean?" I asked him. He grinned devilishly at me with his Dragon-like toothy smile. Then he replied.
"What I mean is, do you really want to do that? It will just start a whole new feud if you do."
"Of course I do. Isn't that the point?! Bring justice to those who deserve it, and to take revenge on the one that killed Lawliet, which is light. But also, to take down the ones that killed light as well. That is my main purpose in bringing these two back. And if I achieve this goal in bringing them back successfully, all three of us will bring justice once again!" I said sinisterly.
"Oh well, don't say I didn't warn ya." He said passively.
I snickered as I wrote both of their names down simultaneously. Within a matter of seconds, the decay that covered parts of their faces and torsos began to vanish and replenish its self to full rejuvenation. After their bodies were as good as new, they both took a breath at the same time. But L. Lawliet woke up first, and light just rolled onto one side and began to fall asleep. L woke up in shock, startled at his surroundings.
"Well, I guess by the looks of things I'm not in Japan anymore". L spoke in monotone as his head swiveled around to look about.
"Right you are L." I said from behind the shadows.
"What? Who's there?!" L said franticly.
"My name is Z," I stepped into the light and took off my cloak. I waved my long hair around and winked. I stepped closer, and the cloak just slid off of me and revealed my tight leather pants and boots with my black corset and long black fingerless gloves. L blushed. "You are right; you're not in Japan anymore. You, my sweet, are in America now. I brought you and light yagami here, not long after his death." I replied with a smirk.
L was awestruck, he just sat there with his mouth wide open, staring. Still hesitant, L tried his best to speak. L sat up straight, and pulled his knees in towards himself. He rested his arms over his knees and sighed. Then he spoke.
"The last thing I remember was that, m-my heart felt like it was going to burst out of my chest. Then, I finally realized when it was too late that, I was having a heart attack. And the last thing I saw was Light, holding me, telling me everything will be okay. Now I wake up here, next to him in what seems to be your place. Please explain to me what is going on?"
I Scoffed. Then I smirked and walked over to him. He stared at me, watching my every move, not letting anything else meet his gaze but me. L looked up at me as I stood over him. He smiled and began to turn red in the face. I sat down in front of him and smiled back, then said. "Of course my Darling," I giggled under my breath. "I will explain everything too you." I brushed my fingers down the side of his face.
I then sat next to him and began to tell him the whole story of how, and of who had killed him. Also the events that led up to light's death. I then explained to him how like a death note, that there is a "life note". But instead of killing the person whose name is written down, it brings them back to life. The same way the person was before their death. I also told him how I was able to acquire it and of its origins. I told him lastly, of who I was and my purpose in America as "The Reaper", an American version of the Japanese Kira.
L was shocked. "You mean to tell me that someone as beautiful as you is the American kira? You wish to follow in light's footsteps? Why?" L was quite puzzled. He looked at me with his wide eyes; they seemed to be glistening.
I sighed. "Why you ask? There is a lot of evil in this world, and it seems that God gives a lot of slack on these guys. I only kill the ones that have murdered and the Rapists. And of course, the ones that are above those basic standards for criminals. L, you must understand my point here. You must understand what light was trying to do. I know it was horribly wrong for him to kill you, but you must understand this please! Just think if the three of us teamed up. We would be the ultimate justice system of the nation." I put my hand on his hand, and smiled at him.
"Hmm… ok. I'll help you."
"YES!! Oh thank you L! You won't regret this! I promise you!" I clapped happily twice. Then without thinking, I lunged myself at him and gave him a huge hug that knocked us both over. I was looking down at him, giggling under my breath again. I could feel myself blushing.
L looked up at me with a smile on his face and eyes wide again. He lifted his hand and brushed my hair out of my face, and then he said. "You know, we have to convince light to join us as well. Three heads are better than two". He snickered.
"No problem. I'll hold his own life against him. If he refuses to help us, I will send him back to Japan and have him locked up. Or, I could just kill him. Whatever you want L, a life for a life… Hmmm…?"
L smiled. "Whatever I want hmm…?" He took his right hand and pulled my head closer towards him. He lifted his head up and closed his eyes.
My heart began to race as I could feel his breath blowing slightly on me. His breath got closer and closer to me, and made me close my eyes.
L got so close. His lips grazed mine, and then we locked lips. His left hand was on the side of my face, and the other on my waist. We both got so into each other that, we rolled over and L was the one that was on me. We both got so hot that a little bit of sweat was coming down our faces.
"Whoa!" said a voice next to us. "What the hell is going on?!"
L and I separated from each other as fast as possible. L wiped his lips with the cuff of his sleeve. Then we both looked over to see light awake, and horrified. He was sitting up straight, staring at us, mouth agape.
"What the hell is going ON?!" Light said once again, this time a bit more loud.
L looked at him with a piercing glare and his hand on mine. "So light, you're awake? How unpleasant."
"Eh-eh L?! Is that you? I thought you died? Wait… I thought I died?" Light was completely confused.
"Heh," L smirked. "You were dead. So was I, so let me explain things to you so that you can understand them." He crawled over towards light. He sat down next to him and explained the whole story I had said earlier. L also told him of both of their errors and what they should do now that they each have a second chance. L then told light how he was wrong before and now agrees with him on the killing of criminals. L lastly told him who I am, and that I was the one who brought them back to life.
"So, you mean to tell me that Z has been following in my footsteps for about a year now?" Light said, still a bit puzzled.
"Yes". I said leaning against L. I winked at light from behind L's shoulder. Light smirked back at me, and then he began to laugh hysterically.
Light stood up and walked over to me, while I was still behind L. He lightly grabbed my hand and pulled me to my feet. He devilishly smiled at me and pulled me into him. He lifted my head up towards himself with his thumb, and then he touched my other cheek with his other hand. Before I knew it he smiled with vile intent again, then He kissed me. Light wasn't gentle like L was, but way more rough and a lot faster movements. I couldn't stop myself; I just went along with it.
L grimaced at Light ferociously. Then He got up and pulled Light away from me. L stood right in front of me, and then without warning, punched light right in the jaw. Light was brought to his knees, and looked up at L with envy in his eyes.
Light was panting. "I was just thanking her for giving me my life back. Why did you have to go and do that?" He gazed at L then at me, who was in shock. My hand covered my mouth, and I was barely breathing.
L was panting as well. He looked down at light, and said. "Don't ever do that to her again… you see how frightened she is right now? I mean, just look at her! She is practically in shock because of what you did. Heh," L grabbed my hand and held me close to his chest. "And you call me a pervert. Jeez, you're more of a womanizer than I thought you were capable of. I would never kill the woman I loved, in order to save my own ass. And later, fail to live. You disgust me Light; you should be ashamed of yourself."
For the first time in L's record of speaking, I never recalled him having enthusiasm in his speech. Until now. For someone who has the classic type 2 version of Autism, L spoke quite fluently. 99% of the time, he speaks monotone and hardly ever smiles. But since his resurrection, he's been acting more happy and emotional than ever before recorded. As for me, I was happy to see him like this. It made me feel good, knowing that I did a good thing. L was not supposed to die by the note book, for his timing of death was up to God. But Light wanted to play God all the time, and thus, took matters too much for him into his own hands. Later, it cost him dearly.
I snuggled my head into L's chest and held onto him with dear life. I felt his heart beat through his body; I thanked the Lord he was alive and well again.
L held me close, and kissed the top of my head. He then said to me. "Thank you, for bringing me back. My death was a complete mistake, and I should have lived longer. But thanks to you and God, I get a second chance at life."
I looked up at him and smiled. I then looked down and across the room too gaze at the clock. The time was now 9:19 p.m., the resurrection was complete.
Death Note: Resurrection
Pre-face.
In the year 2013, the great bringer of justice perished. A year before his death, his arch-rival died by this man's hands. The death of these two young brilliant minds occurred in central Japan. The man of justice, went by the name: Light Yagami. His rival took the name: L. Lawliet and set out his path to uncover the person behind the mass murders on country-wide criminals. Light Yagami took on the name Kira, due to japans' culture of superstition. Kira, was the name of the king god of death. He took this name to his liking, and began to run with it. In the end, he made a fatal error into asking his shinigami (Japanese for death demi-god), to write down the names of his adversaries before him. The shinigami, Namely Ryuk, took out the death note that kills people by writing down their full name, and instead, killed Light.
The year is now 2014; criminals still parade the streets of countries around the world. But, thanks to me, America has been a lot safer for the good natured. My name is Z. Harris, and that is the name you shall know me by. I am 23 years of age and I am the youngest to work for the Government under the title of "Criminal Justice Prosecutor". I take my job very seriously and have no mercy to those who have done others' wrong. This is why, In America, we do not have the name Kira or other sorts, because in rough translation from Japanese to English, Kira is known as "Reaper". For the past 2 years I have studied light yagami and L. Lawliet's past and their affair's with the Japanese government and police task force. I have come to the realization about both of their errors during the time they lived.
Light's mistake was working under watchful eyes and being too close to the police force, and revealing himself to Near too early. L's error was being too close to light and revealing his true name. As for me, I work alone, and have no surveillance over me and the work I do. I have no known enemies, and everyone at my work loves me and my personality. I do have friends but no close ones, due to my hidden agenda. I live alone in an apartment with my black cat named Bagheera. Over the past years I have saved up money to take a business trip to Egypt, in search of the mythical, yet historical, book of Life. In all my hardships in trying to find this book, all my long hours of searching has finally paid off. I found it, the mythical book exists! The Egyptian people that excavated the book asked no questions, for I paid them what I was able to too keep them quiet. They warned me that great terror could be unleashed If the book were to fall into the wrong hands. I told them not to worry, but they kept insisting. Later they left with their pockets stuffed full of American cash and said nothing more about the subject.
I took the book home with me the next day. The book; "Life Note", was very similar to the "Death Note" that I had already acquired. Except one Difference, It brought back the person that's name was written in the book to full rejuvenation; to the age they were when they died. Not even three months after light's and lawliets' deaths, I went to Japan and robbed their graves of their slightly decomposing corpses. I took them home and kept them until I could acquire the "Note of Life". I now have everything I need at my disposal.