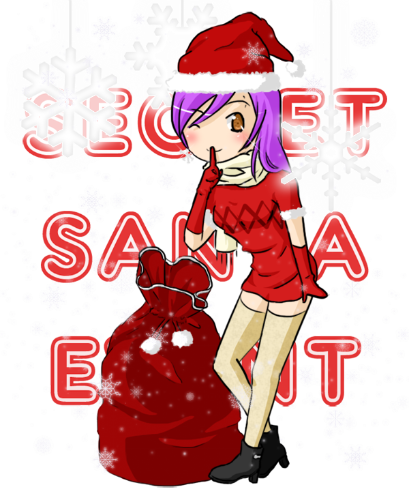 See updates
Last updated on Dec. 26/09
This event is over! Thanks to everyone who participated!
Every year, there's a Secret Santa event that goes on somewhere in the world... But I've never participated in one. And I want to! So this year, I'm going to try and host a Secret Santa event across theOtaku community. Here's what's going to happen:
I want to gather as many members on theO to participate in this event. Members who are interested must comment on this post. When I get a nice, long list, I will shuffle the names and randomize together a pair of names. X member will have to draw something, create a wallpaper, an eCard, do a comic, or write some sort of literature for member Y. Of course, they get to choose whichever they're comfortable with doing. And it's up to them how many presents they want to send to that person [like in case they feel just making an eCard isn't enough]. =)
The deadline to finishing your present will be on Christmas Eve. Even if you're done by early December, please wait till Christmas day to submit your art and remember to dedicate it to the user that was assigned to you. Unless you're a new member and have to go through the process of having to get it looked over by theO staff, then should you submit it by Christmas Eve. Another exception is if you know you'll be out for the whole day on Christmas and won't have enough time to submit it on that day.
I understand that we will have different time zones. Just please at least submit it around Christmas time. =X
And if you think you won't be able to make it by the deadline, please tell me so I know to reassign Santas.
If you have any problems or questions, please leave your comments! Remember to spread the word!
Much love~
------------------------------------------------------------------------------
If you would like to receive updates from this World, please either subscribe to me or bookmark this page.
Thanks for reading~! <3
------------------------------------------------------------------------------