Name of Series: Sket Dance
Alternate Names: スケット・ダンス Suketto Dansu
Episodes: 77 Episodes
Genre: Comedy, Slice of Life, School Life, Adventure (and a little bit of everything: Drama, Romance, Action, Historical, Supernatural, Tragedy, Ecchi, Martial arts ....)
Plot Summary: Sket means Support, Kindness, Encouragement, and Troubleshoot (by troubleshoot, I mean they cause trouble). This anime is basically about the hilarious misadventures adventures of the club "SKET DAN" in Kaimei Gakuen. It involves 3 unique main characters; Himeko, the hot-headed ex-delinquent with a soft spot for cute things and a taste for strange food; Switch, the good-looking brainy otaku who only talks using a computer; and Bossun, the atypical leader with the amazng power to concentrate and often felt that he's not standing out even as a leader.
Personal Opinion: If you enjoy comedy, then get ready for this :> This anime is absolutely amazing because this is the only anime which has everything. Yes. Everything I tell you. I cried a lot, laughed my ass out, got freakin' competitive, cheered, laughed my ass out again, felt chills in my spine, got addicted, felt completely strange out of nowhere and still laughed my ass out until the end. One of the BEST Anime ever~
~ This really is for random people because of its random episodes lol
Rating: 10/10 Srsly.
I have my own CD of this but if you want to stream, Here :3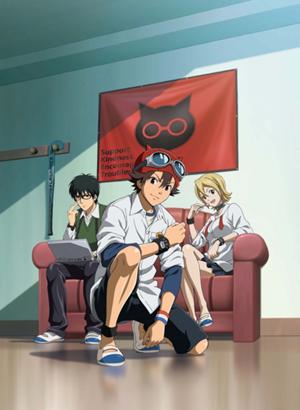 image (c) sketdance.wikia