Hey guys, sorry for not posting anything in forever! I've been really busy with school (full-time student) and I have been preoccupied working on a Hobbit fancomic on Deviantart. Take a look at one of the panels: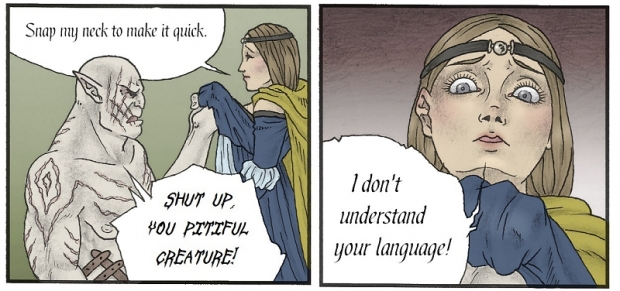 The story focuses on Maronna (my OC), a young basket weaver. She is a very grumpy person who lies and gossips and brags about how high her bride-price is. An all around unpleasant lady. One day Azog's orc pack attacks and he loses his pretty white warg! He pays Maronna to free his warg from within the village. It backfires on her though and she's exiled for helping orcs. She explores Middle Earth and discovers whether or not she has a heart as cold-blooded as an orc.
In the story she'll encounter Beorn (I love him so much), a bunch of elves like Haldir and his brothers, maybe even Celeborn and Galadriel! I thought about throwing some more popular characters in there too like Thorin or Thranduil but I wouldn't know how to incorporate them into the story.
The comic is in full color and is a different art style than Valle Lacrimarum or Monarchy X Anarchy.