Codnor is a small village in Derbyshire and happens to be the place where I grew up. It has a population of around 5000 and is roughly 12 miles from the city of Derby and roughly 14-15 miles away from the city of Nottingham.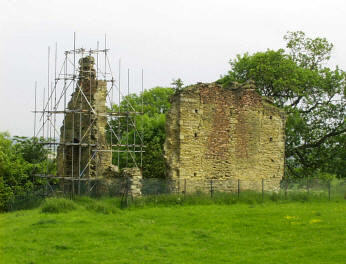 Codnor is an old mining village that was mentioned in the Domesday book of 1086. (A book commissioned by William the Conquerer that details things such as livestock, taxes and so forth.)
The village even has it's own castle, Codnor Castle. Located roughly a mile away to the east, the castle is now in ruins. There is a charity, however, that was founded to help preserve what is left, as it is in the hands of the UK Coal company.
The castle dates back to long before the Norman conquest and fell under the jurisdiction of William Peverel, a knight who fought in the battle of Hastings. (You may also recognise the name from Peverel Castle of Castleton.) This later fell into the hands of Henry De Grey, a coutier of King John. His descendants included the famous Lady Jane Grey. (Claimant to the Kingdom of England and Kingdom of Ireland who was actually de facto monarch of England for just over a week.) Henry and his brother John served in the holy land and Henry and a man named William D'Eincourt commanded the knights of Derbyshire and Nottinghamshire.
Unfortunately, Henry died and so the land was left to a family member. His aunt, Elizabeth, who later married a man named Sir John Zouche, who happened to be high sherrif of Derbyshire. The castle then stayed in the Zouche family for over 200 years, but was sold in 1634 when the family moved to Virginia.
The last person to ever live in the castle was the high sherrif Sir Streynsham Master. (1712) However, the castle was already in poor shape and so it fell into decline and was later salvaged for building material for 6 farms nearby. The dovecote, built in the 14th century to house pigeons for eggs and meat, was demolished in 1969 due to damage from a farm tractor.
Time Team excavated the grounds around Codnor Castle (Episode aired 6 January 2008) and unearthed a gold coin dating back to Henry V. This coin is now on display in the Derby Museum.
To watch the episode, please visit this link (CLICK)
Codnor used to have a railway too. This, mostly used for colliery traffic, stretched from Crosshill to Eastwood, but was torn down when it was no longer needed. It also had a tram system in place that carried people from Codnor to Nottingham. The tram was affectionately named 'the Ripley Rattler'. (DH Lawrence actually wrote a short story about it. He was born in Eastwood 4 miles away.)
Codnor was also the birthplace of 'Professor' Joseph Millott Severn. He was a phrenologist who worked in Brighton and published many books on the matter.
Codnor, now looking a little worse for wear, is now dominated by the A610. A road that stretches through the village that carries cars from Nottingham and beyond to places such as Matlock. This road, however, is a notorious accident trap and many have, unfortunately, have perished on the road near the Ormonde Fields Golf Course.
Speaking of sport, Codnor has a cricket club which has been in existence since 1924. While originally being quite understated, the league now plays in the Derbyshire county league and fields both a 1st and 2nd eleven as well as two youth teams. The club plays on Goose Lane (The notorious haunted lane said to be haunted by a headless horseman.) in the old Miners Welfare grounds. (Now shut down.)
Codnor now has a Tesco Express, a big blow to local businesses such as Hunts of Codnor, a small general store on Heanor Road and the small off license on the main road. One store on Jessop Street which had been going for years recently closed, as they couldn't keep up with the competition. Tesco Express is built on the land of an old super market and petrol station (Harry's Supermarket). Before that, the land was owned by a small garage and car workshop which closed around 1992. Tesco is part of a tiny retail park on the corner of Hillcrest Drive comprised of 4 or so units, the others owned by a tile warehouse and the brand new Codnor Fish Bar. (Unfortunately, Tesco Express is a popular hangout for the local idiots.)
Along the main road there are several shops, including an award winning Indian restaurant called Jeera, a new hairdressers shop that used to be a Deli, a chemist, betting shop that was formerly an electronics store (Logic - My brother worked there after leaving school.), a fancy dress shop (Opened last year), a compter parts and stationary store (SIDS INK), an Indian take away store called Codnor Tandoori, famous nationwide and, of course, a chinese and chip shop combined called Kingfisher which happens to be my favourite. (They do the BEST King Prawn in Black Bean Sauce. <3 )
The shops were originally built by George Severn. He used to own a furniture shop in 1911. The row was completed in 1923. There used to be the Post Office, Hiram's Ironmongers, Miss Hopkinsons India and China Tea Shop, Fanny Taggs Millinery, the Barbers, George's Furniture Shop and finally Bostock's Butchers at the end.(To view an old photo, click HERE! Image © Codnor.info )
Codnor also has a pet store that sells the usual pets like birds, kittens, rabbits, fish, etc. But, the man who owns it is quite the specialist in the exotic and own tigers at his house. He used to sell crocodiles, monkeys and owls and has no problem getting you exactly what you want.
The local schools are all in one building complex. A group of old looking buildings with high slated roofs. A nursery group for young children, an infants school and a Church of England Primary School. Students have to travel to neighboring Ripley when they reach 'highschool' age. (Mill Hill School.)
The village houses a small chapel on Mill Lane, a Kingdom Hall of Jehovah's Witnesses on the corner of Stirland street and a large Anglican church up on Crosshill known as St. James' church. This church was built in 1844 when Codnor and Loscoe were made into one Ecclesiastical Parish in 1844. Codnor and Loscoe were previously part of the Parishes of Denby, Heanor and Pentrich. The Church was consecrated by the Bishop of Lichfeild on 10th October 1844, and was built by public subscriptions and grants for £2000. It was built to seat 400 people, with half that number of seats free. The bell in the tower was actually from a church in Eastwood that was pulled down. The bell bears the inscription of "God Save the Queen 1713" and is believed to have come from a ship.
A Vestry was added in 1890, and a gallery increased the seating capacity by a further 117 seats. The first Vicar was Rev. Henry Middleton, to whom a tablet is erected in Church, and Middleton Aveune which is nearby is named after him. Then, in 1834, a Mr. Hickeing of Codnor, tenant farmer of Dr. Starbuck Wooley of Heanor, located a font which was being used as a pump through and was placed in the garden of Dr. Wolley. It was the font from the Church of St. Nicholas, the Church to Codnor Castle, and is now at the Church of Crosshill.
Codnor has many pubs, but the one I particularly like is called the Poet and Castle. This pub has been known as many different names throughout its history, from The Red Admiral, to the Clock, to the New Clock and so on. These days, the Poet and Castle has indeed transformed itself into a homely pub, with oak beams on the ceiling and traditional, guest and home made ales being served at the bar along with wonderfully cooked meals such as home made chilly, made with Scotch Bonnet chillis, beef stew and potatoes, meat and potatoe pie and so on. On saturdays there is a 'pie night', also 'Poets Pantry', a menu packed with wonderful food such as game dishes and steaks, home made sausages and all of it made from local produce sourced from local farms. On sunday is the carvery. £6.95 for a choice of beef, turkey or pork (Or all 3!) with yorkshire pudding, mash, parsnips, roast potatoes, stuffing, carrots, peas, cabbage, cauliflower cheese and gravy. Perfect! ( If you ever visit, I recommend a meal there: http://poetandcastle.co.uk/menu.html )
The Poet also plays host to musical performances, from part-famous bands, to an acoustic open-mic night. They, of course, even have the traditional quiz night to entertain everyone.
The ghosts said to haunt Codnor are the headless horseman of Goose Lane, the soldiers of Codnor Castle (Said to be dressed in Cromwellian attire), the 'lady in grey' clad in a grey dress and shawl, her face completely covered, who asks if you have seen her husband should you meet her (Apparently, although we don't know who she is, it is thought her husband died when working with a stone grinder, his head getting crushed in the grinding wheel. It is also said she committed suicide by forcing her head into the exact grinder he died by, hence why her head is hidden.) and the mysterious Lady Jane Grey herself has been seen wandering about.
While being populated by lots of young families, Codnor remains to this day a nice place to live. Although, on first glance, it may not appear as much, it is a cheerful place that is surrounded by firnds and farmland and I wouldn't trade it for the world.

(Well... Maybe Greece. ;) )