Well, it would seem, weary traveler, that you have stumbled across that which you have sought your whole life.
I am Angelo, or Fai no Tenshi.
Welcome, my tired friend, to a sanctuary. A place where you can rest your head and learn some answers to life's simple, extraordinary, deep, and otherwise tempting questions. Ask a question and see what response I give. My answers will vary according to the day and mood I happen to be in. So, go ahead and poke and prod my brain, for I have answers to share.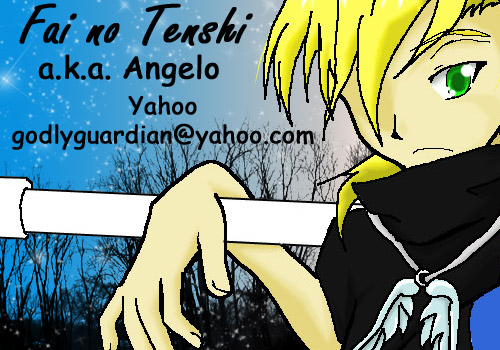 ~Angelo, friend of TheDarkAngel (Yosei), and ShrimpyAlchemist (Niko)
.:*Yesterday is history, tomorrow is a mystery, but today is a gift. That is why it is called the Present.*:. ~Master Oogway, Kung Fu Panda.
To visit the site that the three of us share, go here: The Etherial Realm of Light.
HERE'S MY HAPPY SONG! IT MAKES ME LAUGH!!!!