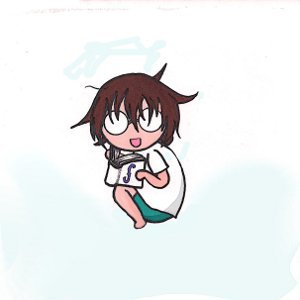 Hello everyone! I'm so excited to be part of this World!!!!! I apologize for the delay but I had to study!!! As you can see in my chibi! She's studying for the Calculus test. The book she's holding is my calculus book! The title is: Calculus, Early transcendentals, 7th edition! The purple thing in the book is integrate's symbol!!! Its so beautiful! It's amazing! It's the same symbol violins have! I love math and violins!!!
Current age (2012): 20 years (I feel old!!!)
Occupation: College Student
Anime/manga: Super long anime list
Wish this list was longer! There's so many manga I want to read!!! Can't find the time to read'em!
Favourite Genres: Anything that I find interesting as long as it's NOT yaoi, yuri, ecchi, etc.
Video Games: Anything goes as long as I have time and interests me.
Art style:
1. I do paintings in oil, acrylics and mixed media! If you want to see them go here and let me know what you think!
2. Fanart and OC's. I usually do the sketch with pencil then trace it over with pen. Then I color it with crayola markers, colored pencils or digitally (I use Gimp to color digitally). Sometimes i mix all three. For example in my chibi I did the skin with a colored pencil the clothes, hair and book with markers and then I tampered everything in Gimp!!!! I felt like I was cheating but I wanted to make it look good!!! So I used the cartoonify filter and the smudge tool (for the skin).
3. Fan Comic. For the art in my Fan Comic I do all the panels by hand pencil first then trace it over with pen. Later I fix a lot of thigs in Gimp!! I use patterns fills, gradients fonts, anythi8ng that'll help!!!!! It's fun but it's not pure! I support 100% traditional art. But then again I find digital art so very amusing and alluring!!!!!!!
Favorite Tools: Pencils, Markers, Paint (oil or acrylics) and Gimp!
About me: Most of the time I'm busy studying but in summer and winter break I tend to work a lot on my art! And I especially dedicate time to my Fan Comic!!! I really love this website and all my friends!!! I feel very comfortable here! The main reason why I joined this website was because I was dying to publish my Fan Comic and I found the perfect place here!!! InTheO. After joining I learned a looooot of new things so I'm very glad I joined!!!!!