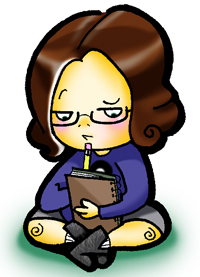 Hi! X3 I'm IyamiNaHamusutaa, but you can call me Iyami for short, or Sachi (my nickname) which ever is easier for you remember.
Country: U.S.
Age: 23
-Anime/Manga: Trigun, Beck, Strawberry Marshmallow, The Melancholy of Haruhi Suzumiya, Ouran High School Host Club, Welcome to the NHK, Natsume Yujin-cho, Yu Yu Hakusho, Cowboy Bebop, Kaichou wa Maid Sama, Kyo Kara Maoh, Ghost Hunt, Gokusen, FLCL, Code Geass, Fullmetal Alchemist…and many many more XD
-Favourite Genres: Comedy, Romance (yaoi), Drama, Supernatural/Scifi, Slice of life
-Video Games: Zeld Ocarina of Time 3D, Pokemon Mystery Dungeon: Explorers of Sky, Pokemon (Gold, Ruby, Diamond, Heart Gold & White), Animal Crossing, Kirby, all my old N64 games, and Tetris :D
-Art Style: Digital mostly (very little traditional, though, I'd like to change that)
-Favorite Tools: Pencil, eraser XD, highlighters/colored markers, Sharpies, my AWESOME Pens of different sizes (LOVE THEM X3), Photoshop Elements 5.0, DigiPro (4"x3") tablet
-About me: I was always encouraged to draw by my mom; she always had the house stocked with art supplies, so yeah, I've been drawing from a very early age. I started out drawing mostly animals, then in 5th grade, (in 1999, I was 10,) I found a Raichu figurine buried in the sand at school, and thus began my love of Pokemon, and my journey into the world of all things anime.
Thanky for letting my join this world (it's the greatest idea for a world on TheO ever!!!)
Help Prevent Artist-Block!!!!! XD