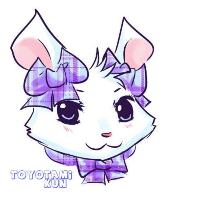 Hello I'm Toyotami, but feel free to call me Toya! XD I asked Manga if I could join this and She let, so many thanks to her!!! Thank You Manga!!!!
Um for my chibi I drew a Bunny, I normally draw that bunny as my avatar, so I hope that is okay! XD You might end up seeing her a lot, I guess you can say she's my self insert!
-Country: Um somewhere in the world, only Manga knows! XD
-Current Age (Jan 2012): I'm 21, going to by 22 in August. Oh My hope I'm not the oldest here...O_O JK
-Anime/Manga:I have a really long list, that I can't even remeber some of the stuff on it, but I'll put down stuff I'm into now! Pokemon, Lock On!, Code Breaker, Lovely Complex, Clannad, My neighor is a monster ,Love so Life, The Sleepy Residnets Of Birdwell Manor, Our Happy Hours, Tamago No Kimi, Blood Plus, Magico,My Hero, Vocaloid, and there's so much more. I put the english name of these title in case someone was wondering....
-Favourite Genres: Romance, Drama, action, mystery,shoujo,shonen pretty much anything as long as it's not Yaoi, Yuri, smut, eiichi, or hentai.
-Video Games: Um I'm not good at games, but I do play Left 4 Dead and Left 4 Dead 2, and Lego Indiana Jones! XD I'm not to bad at those! XD
-Art Style: Um my art style? I do lot's of tradtional work using cryola marker, and I'm doing some digital, but I'm not to serious about it right now.
-Favourite Tools: Cryola markers, copics,ball point pens,copic liners, Tablet, Sai, pretty much anything I can use to draw, but no paint or soft pastels.
-About Me: hhhmmm, I don't really know what to put here. My name is Toyotami, but you can call me Toya, well that's not my real name....XD
I like to draw a lot and I'm still improving. I do alot of drawings traditionaly, and I mainly use regualr cryola markers since I can't afford the expensive stuff yet....
I'm trying to learn to do digital stuff too! But I'm not to serious about it right now.
I also like to make my own stories too, I have some post here and the others are WIP for now.
I join TheOtaku about 5 years ago, I found it when I was searching for fanmade comics, I just love this place. It's really nice and friendly! I also consider this place my homebase, I perfer it over DeviantArt.